Coastal Maine Wedding | Maine Wedding Photographers
Ali and Mitch had an amazing coastal Maine wedding!! They were married at the Phippsburg Congregational Church, and their reception was at the Small Point Club, both in Phippsburg, Maine. Another detail that we loved was the fact that Ali's parents were married in the very same church, and their reception was at the very same venue, 30-something years ago. How wonderful is that?! That detail speaks volumes not only about Ali herself, but also about the close family ties. And those close family ties were everywhere…parents, grandparents, great-grandparents, cousins. It was an honor and a joy to photograph this beautiful, elegant, fun- and love-filled wedding!
The first thing we loved about this wedding was the couple, Ali and Mitch. To say that they are perfect for each other is an understatement. As Ali said to us, "we complete each other". We could see it in the way they look at each other, and how relaxed and in-tune they are together. It's a beautiful sight to behold and on their wedding day they were gorgeous together (as we are sure they will be forever after)!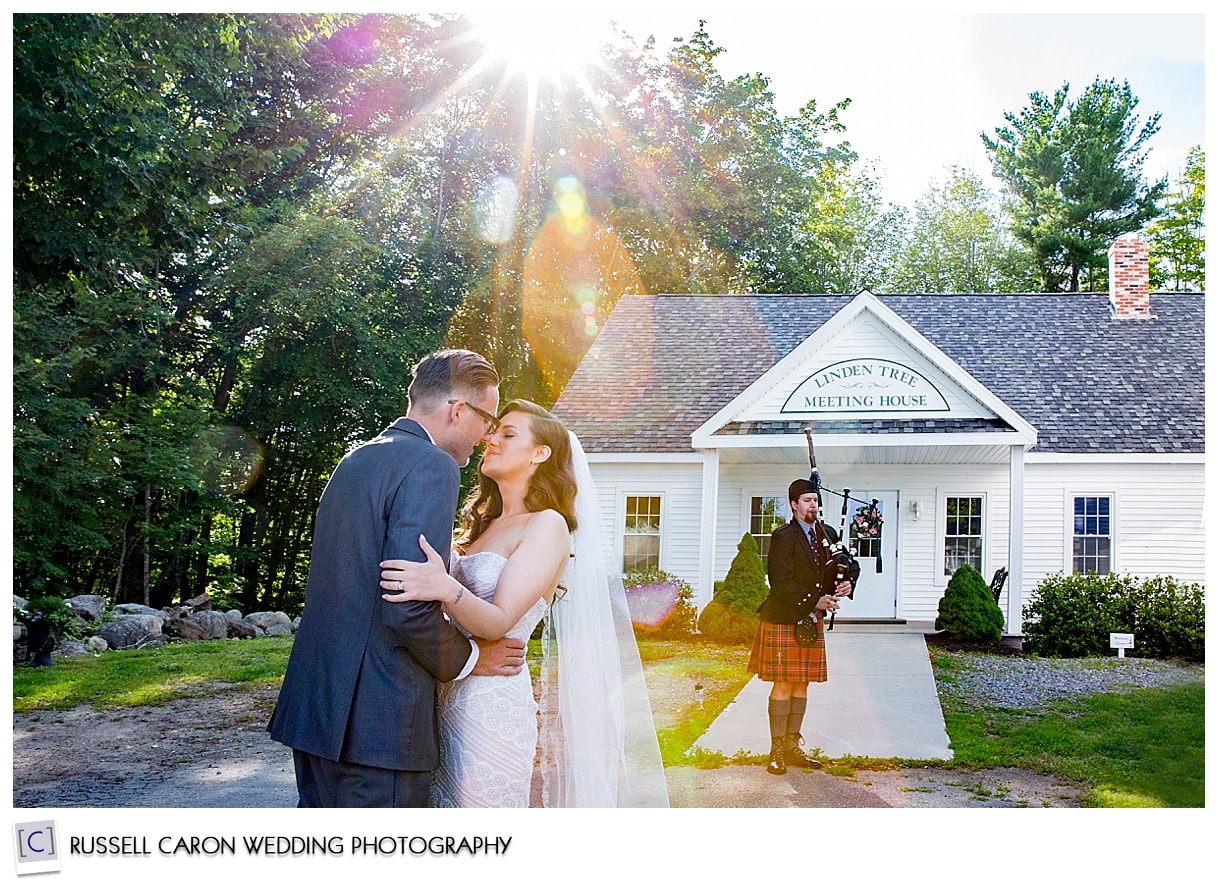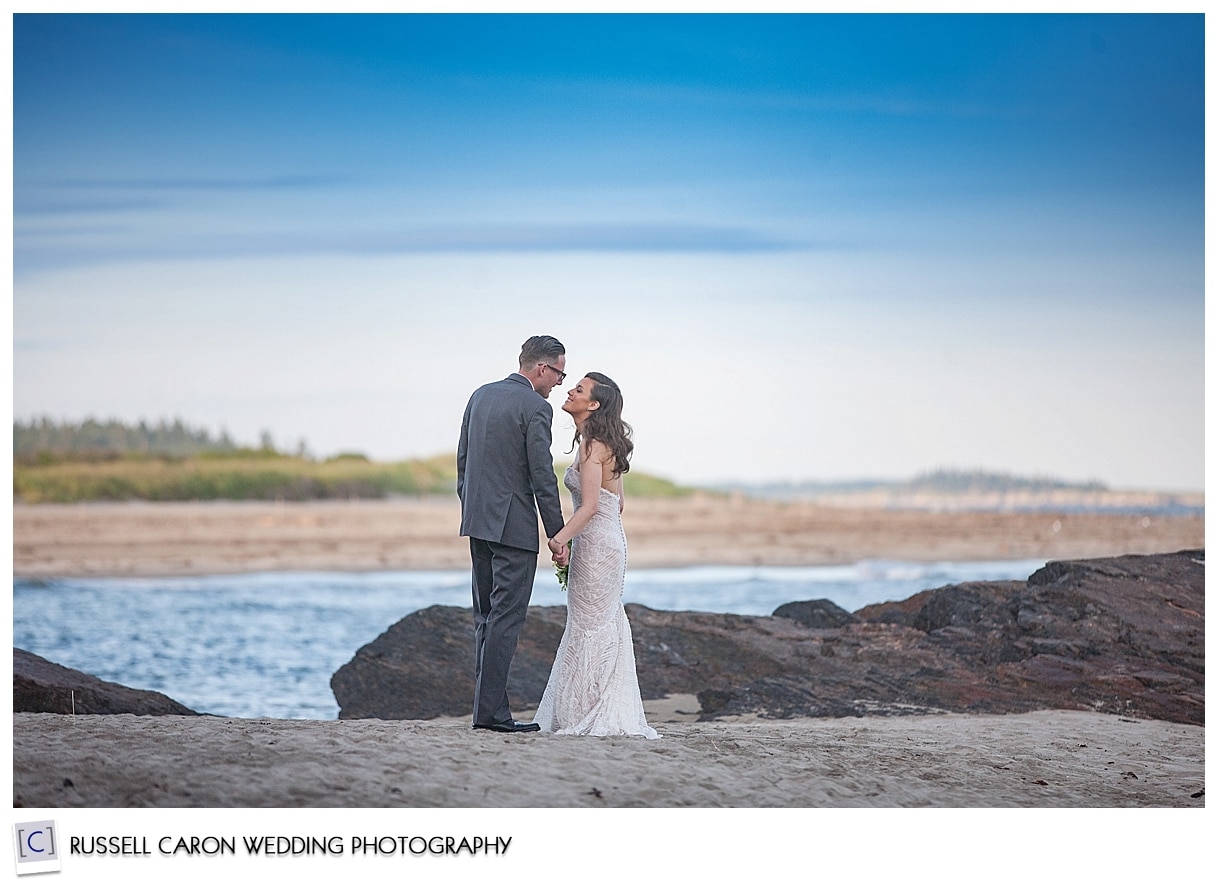 Below three panels, Ali during bridal prep at her grandparent's house.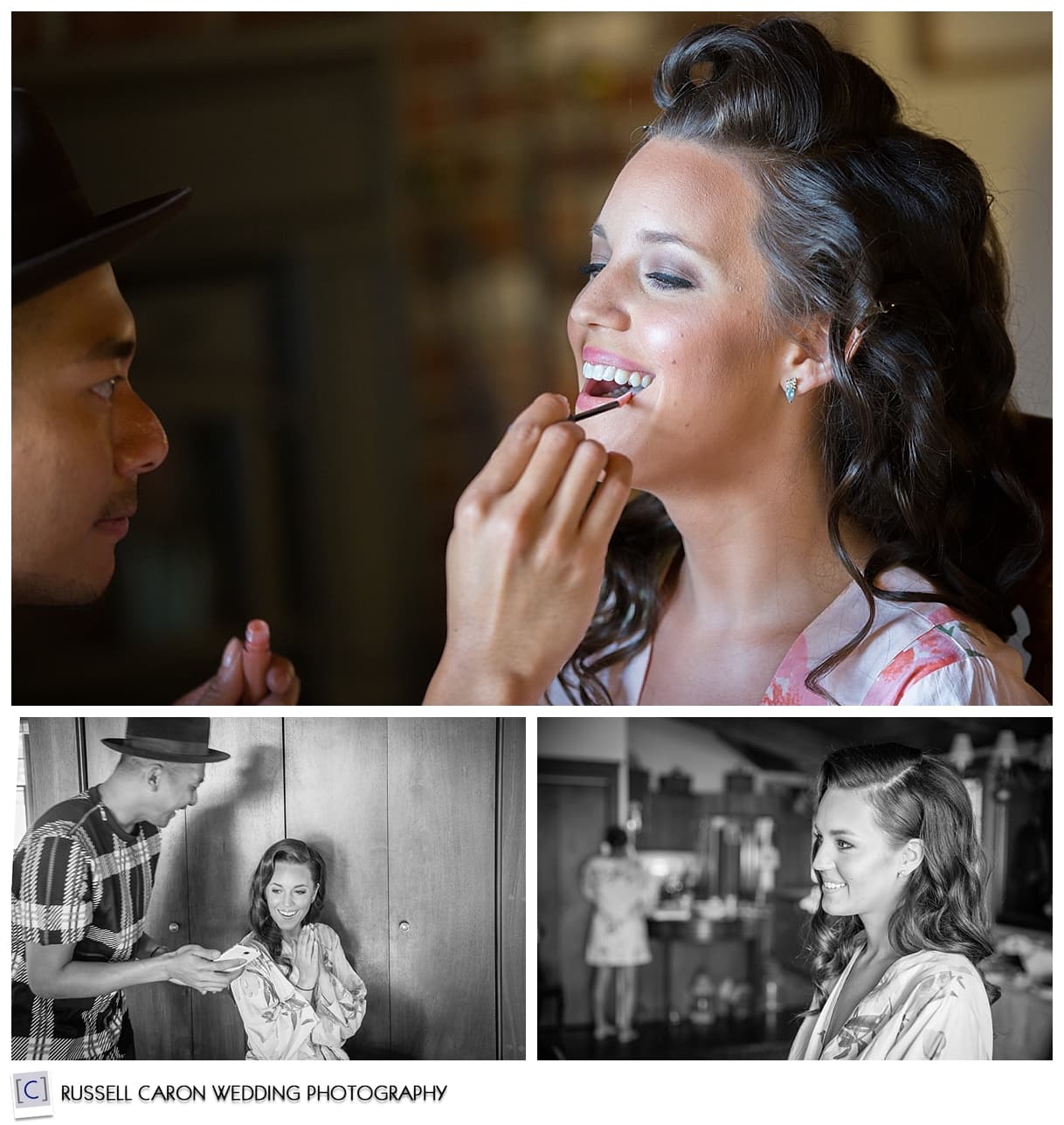 Fun moments as prep wound down and dressing was soon to begin!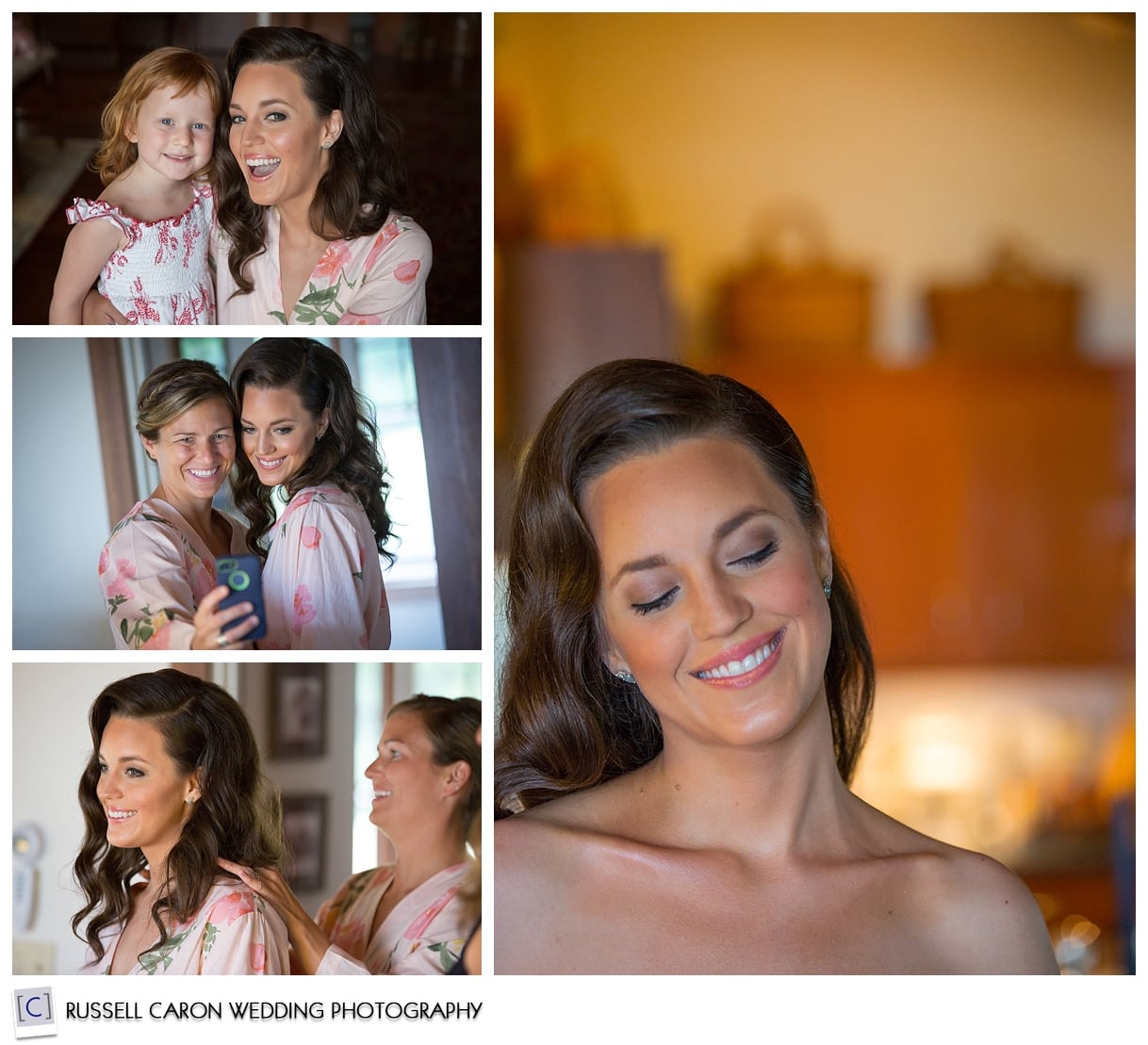 Ali makes for a gorgeous bride, below. Look at that radiant smile!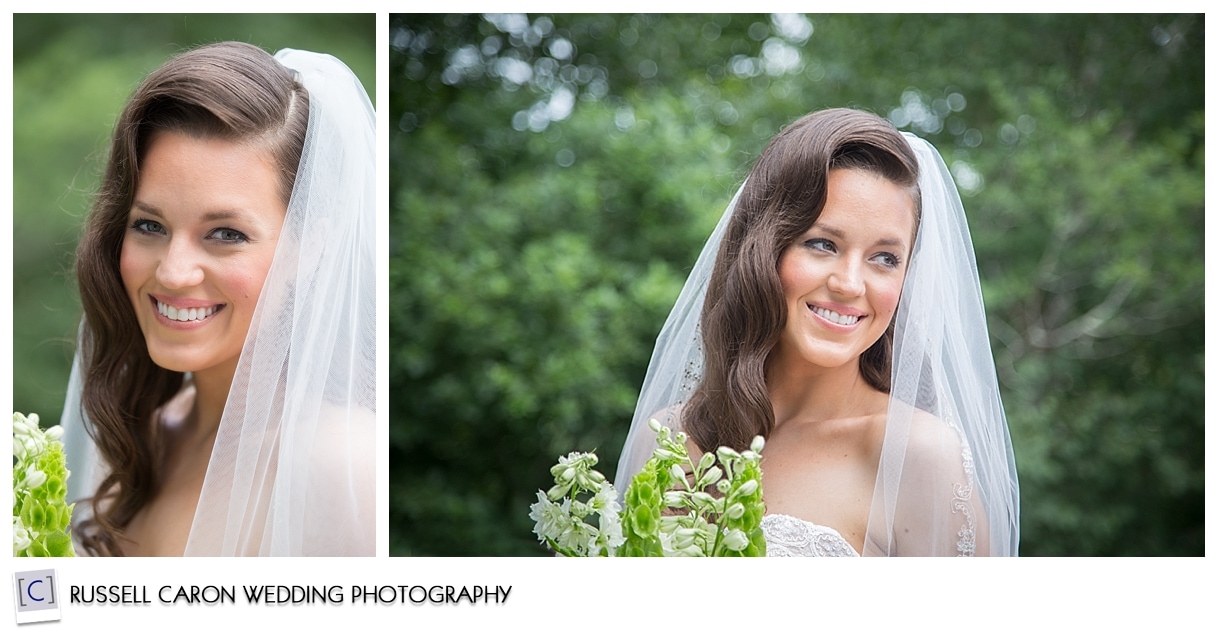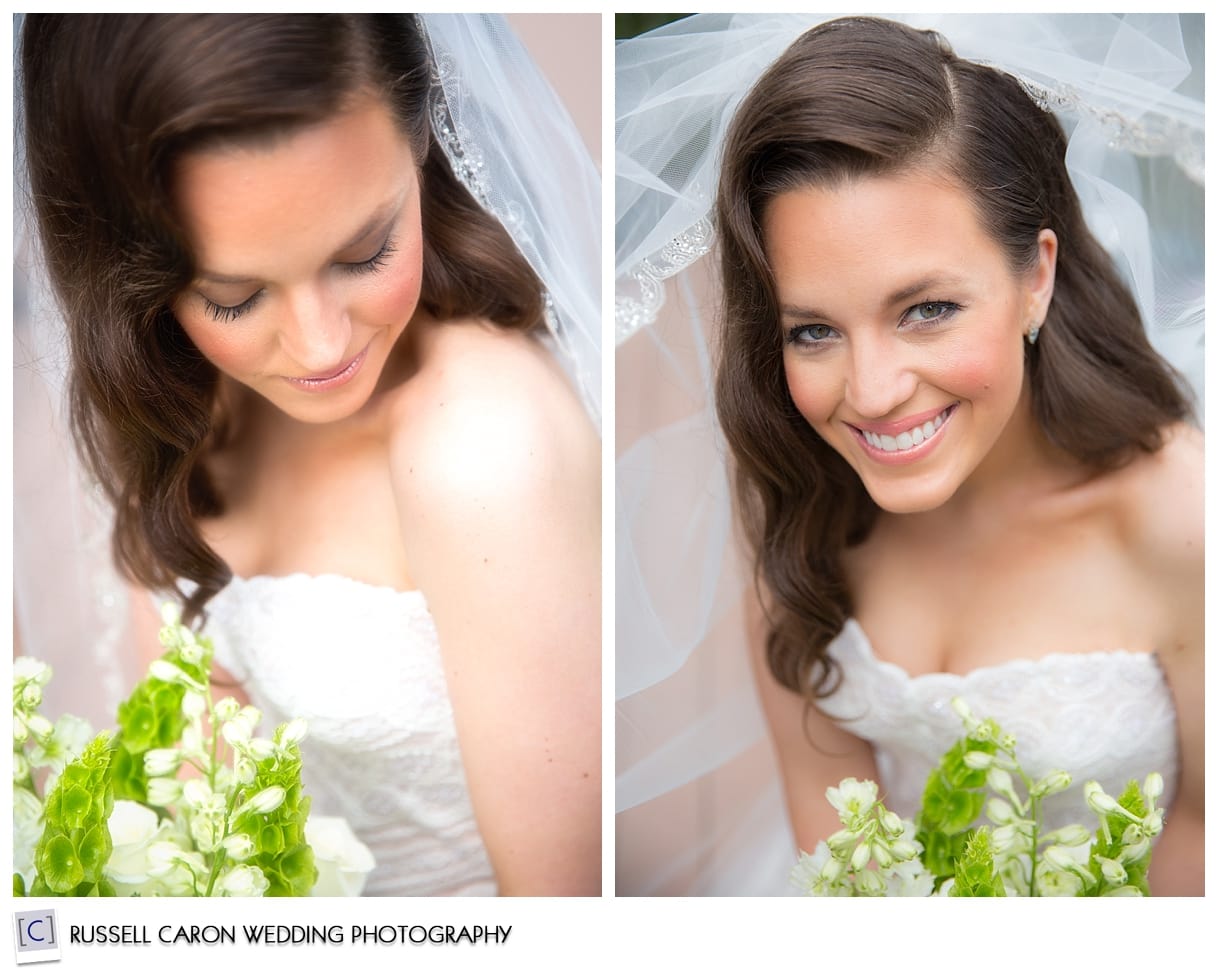 Below, right, a very proud dad kisses his soon-to-be-married daughter.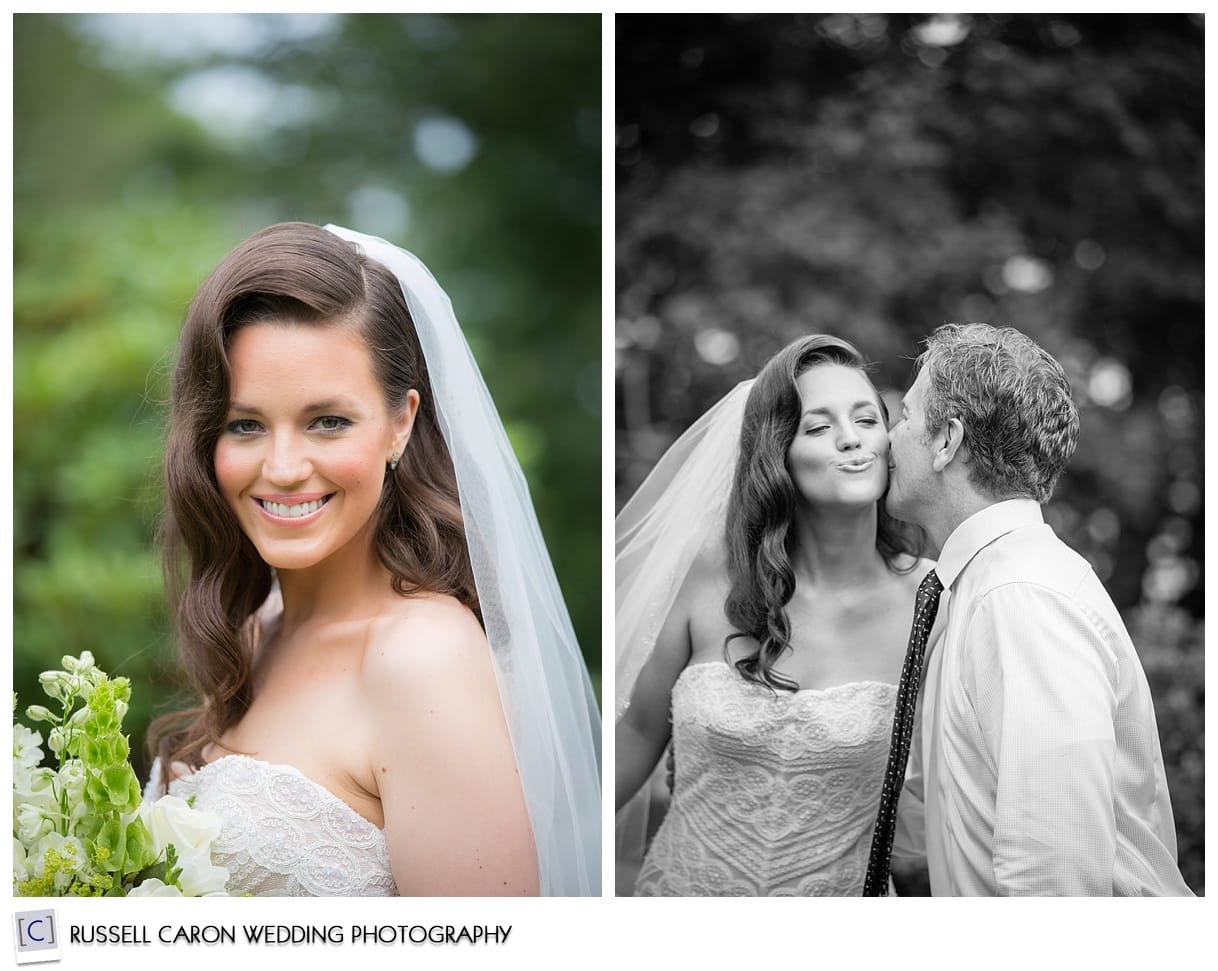 Mitch, below, and the groomsmen at the Phippsburg Congregational Church. Skies were overcast and gray before the ceremony began. But change was in store.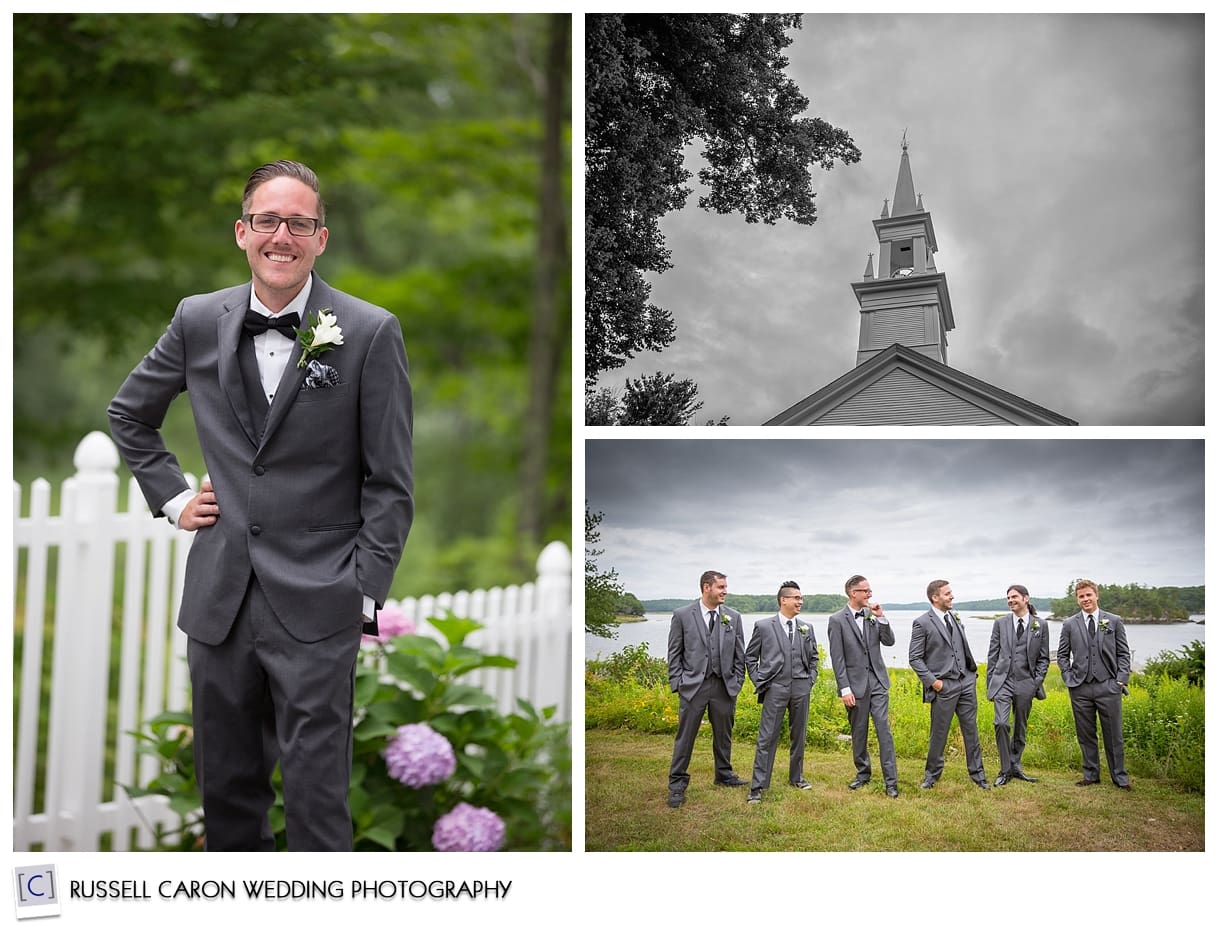 Ali, upon arrival at the church with her dad, Bill.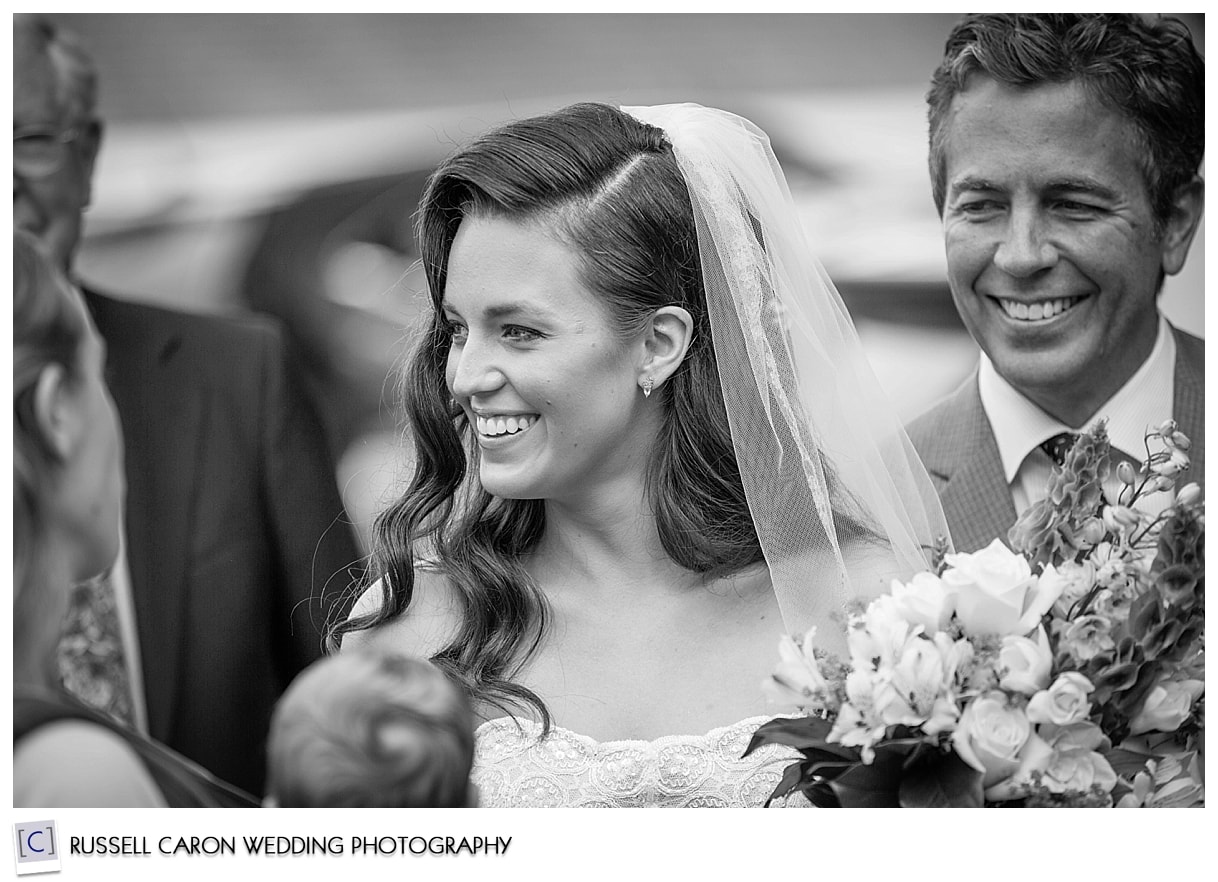 Below right, Ali's mom during the processional. Below left, Ali's niece Sophia as flower girl.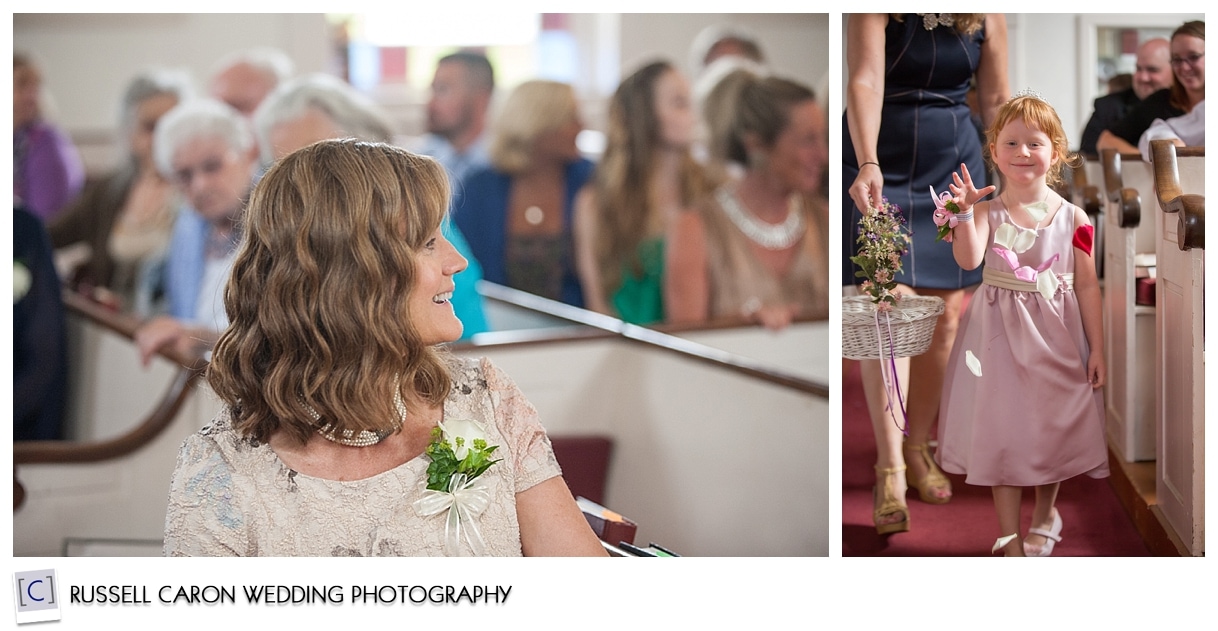 Mitch's smile says it all, below.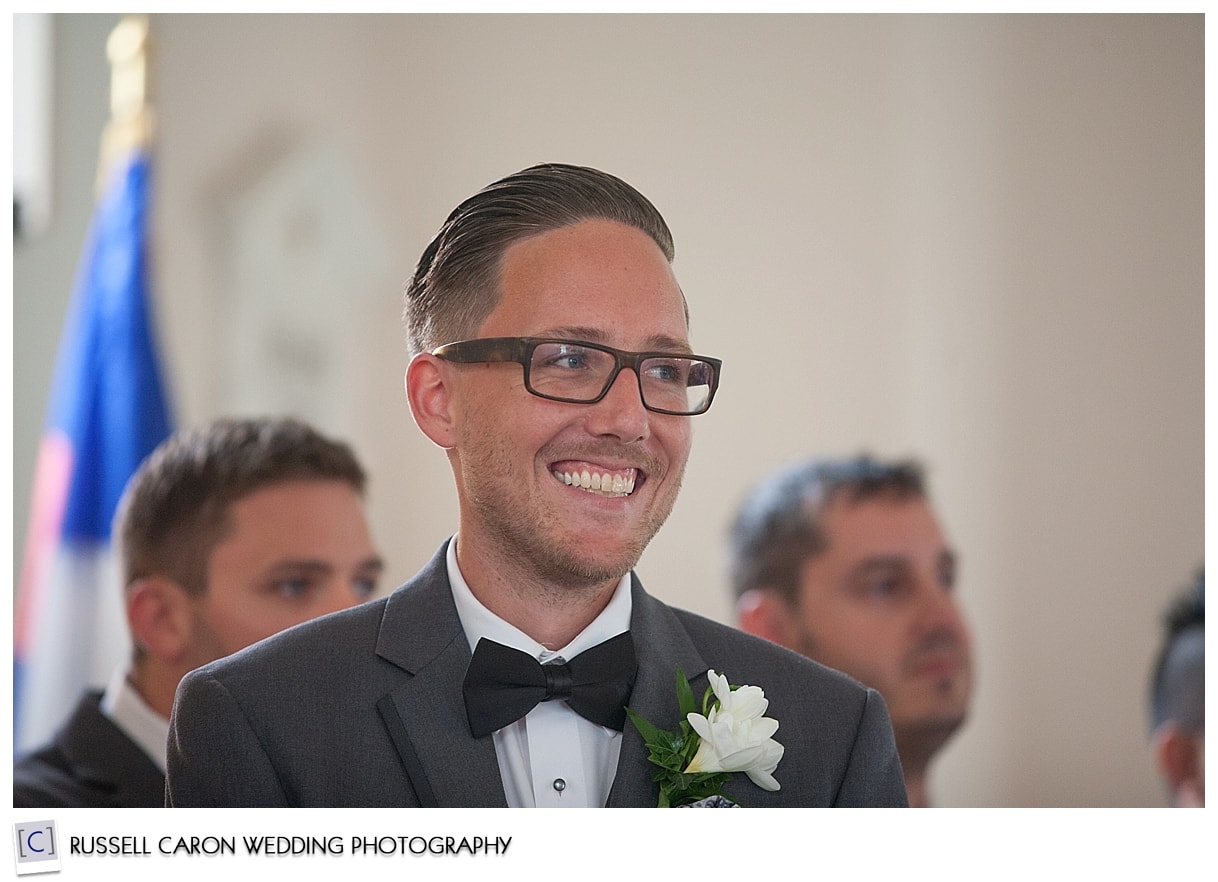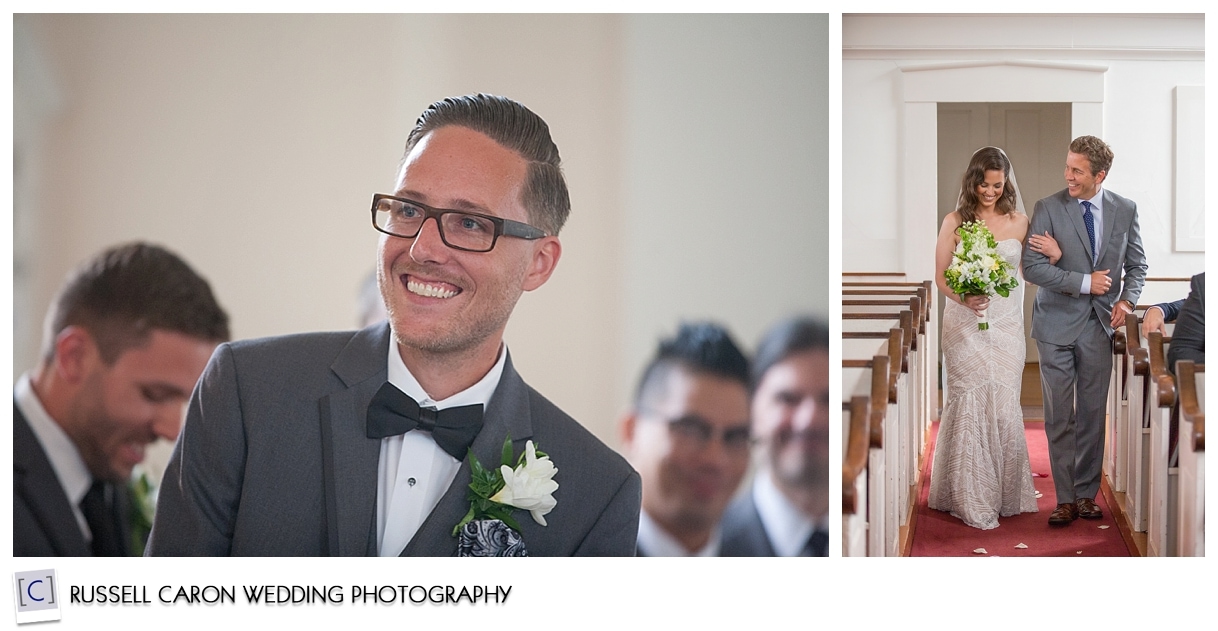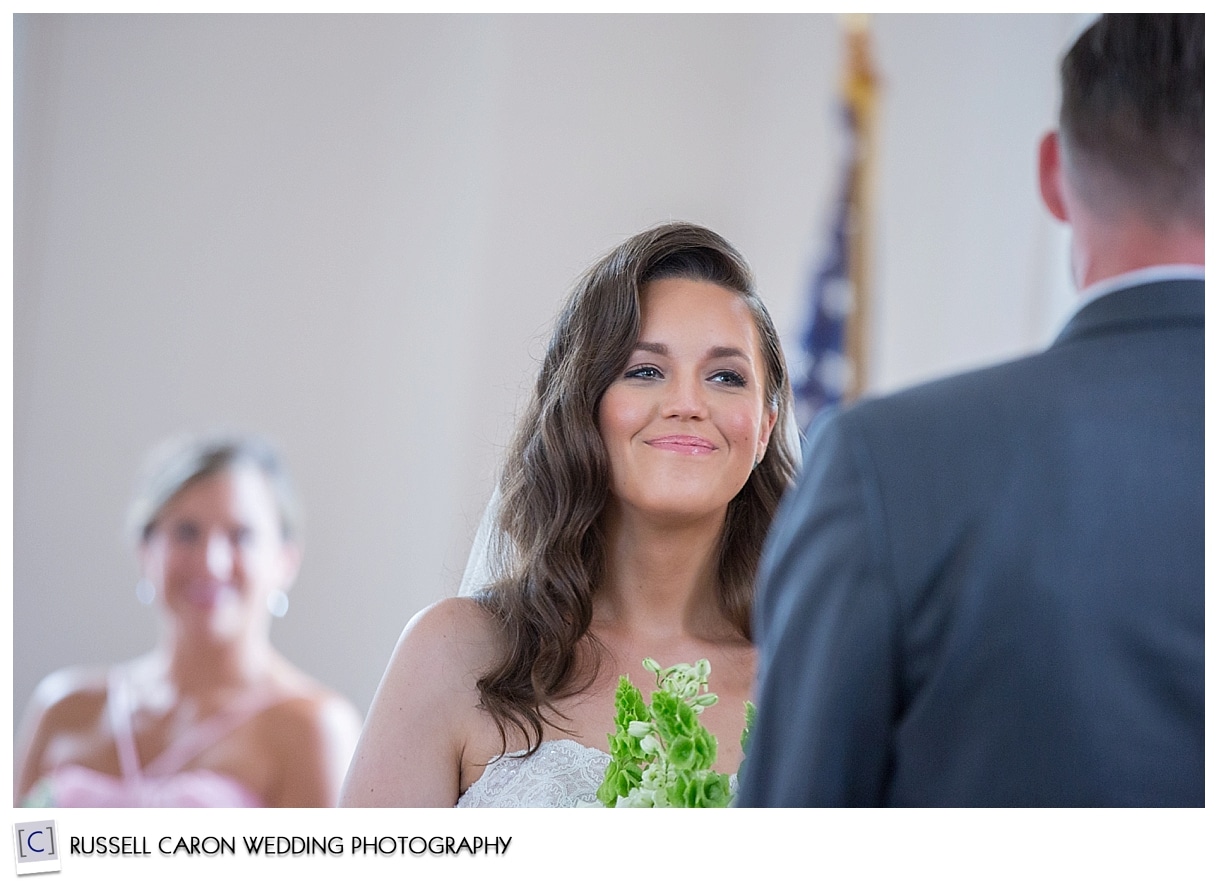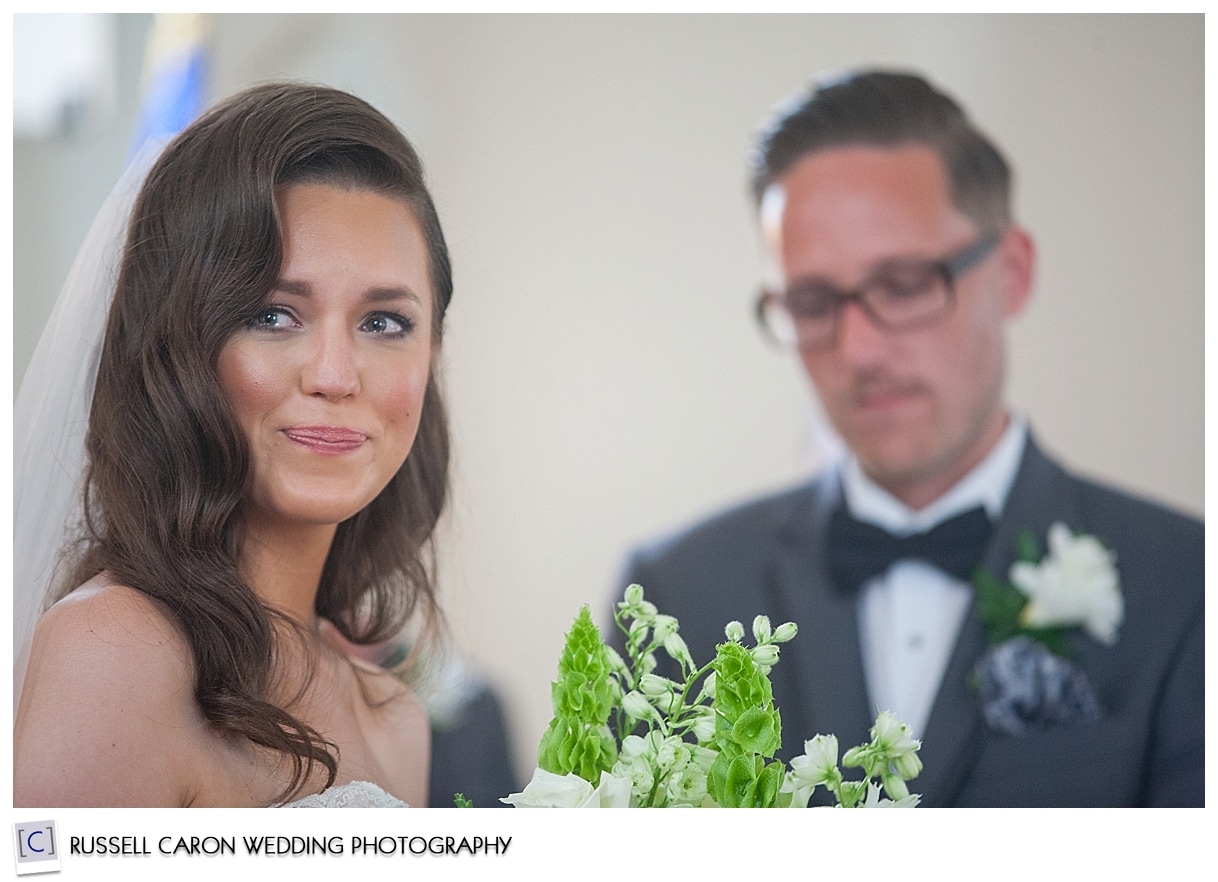 Below, all eyes and emotion shifted momentarily as Ali's aunt and uncle, both professional opera singers in Philadelphia, PA, sing during the ceremony, below. We are rarely treated to such spectacular voices during wedding ceremonies!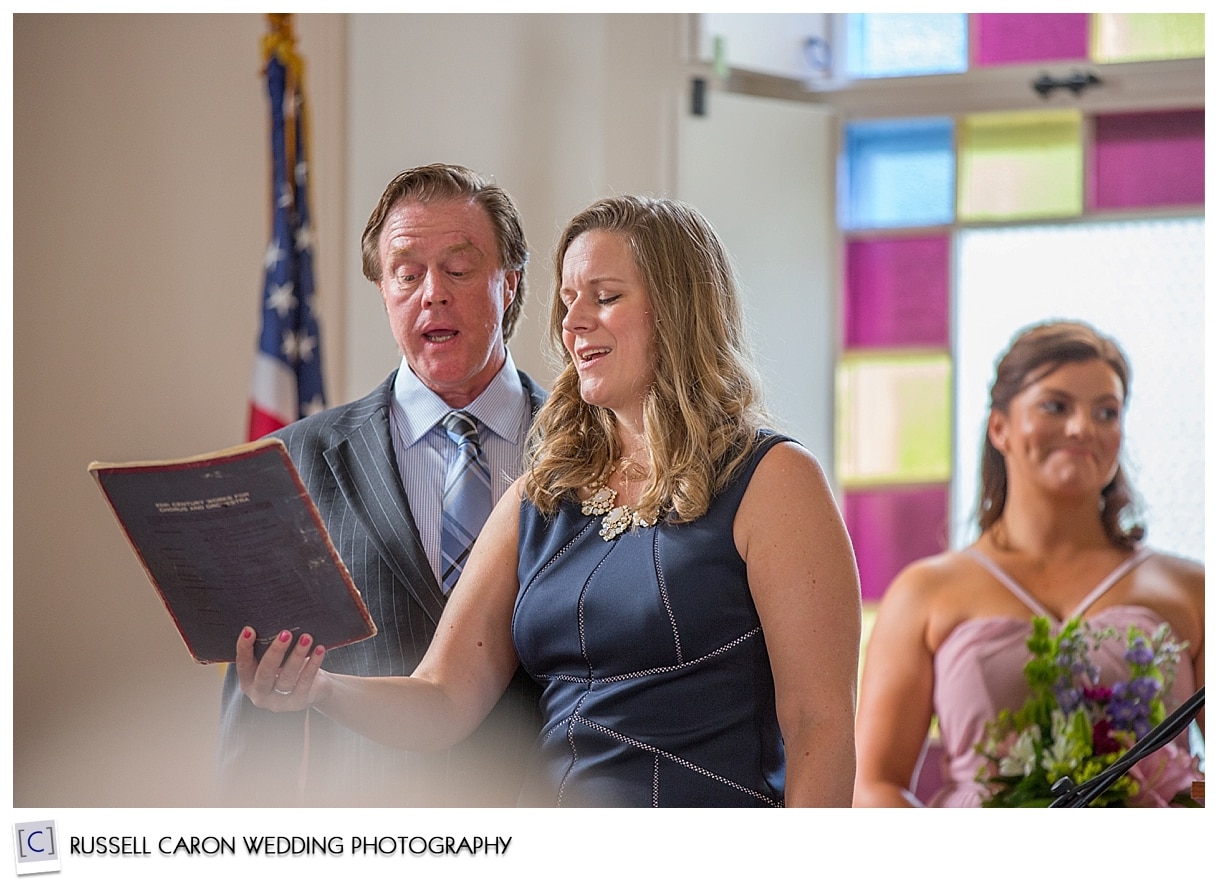 The church is a perfect setting for a wedding as this was, both outside with its scenery along the Kennebec River south of Bath, and inside, as seen here from this balcony view.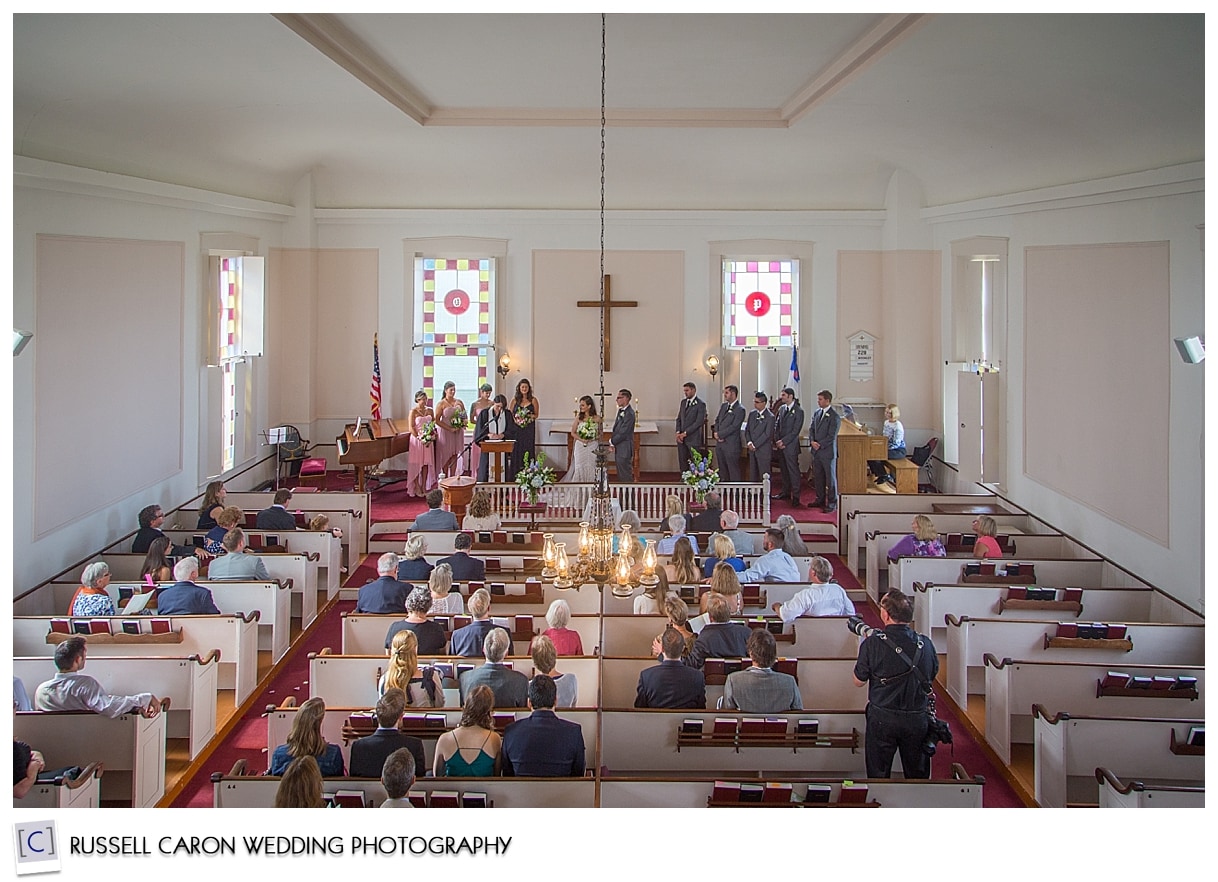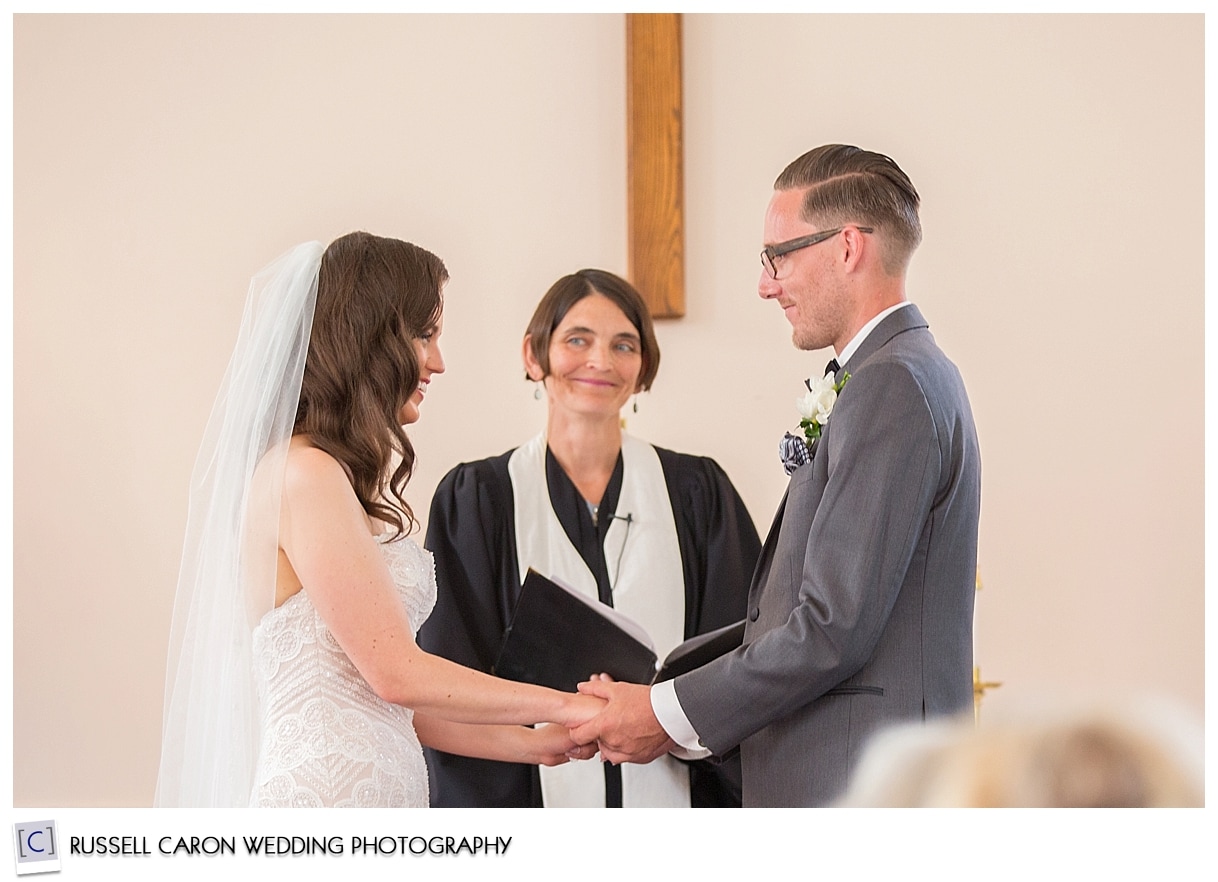 Below, Ali during the vows. We love the display of emotion; so heartfelt.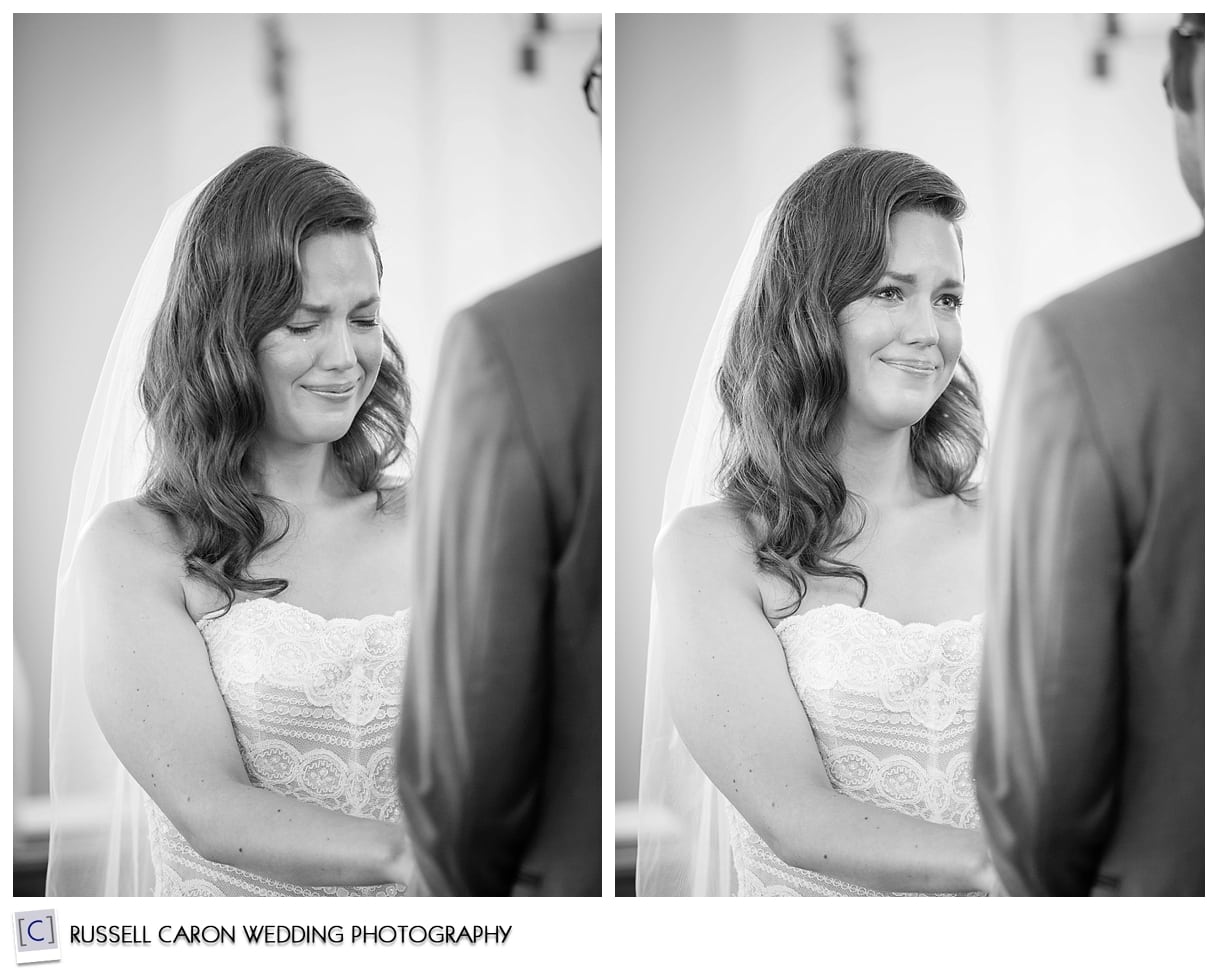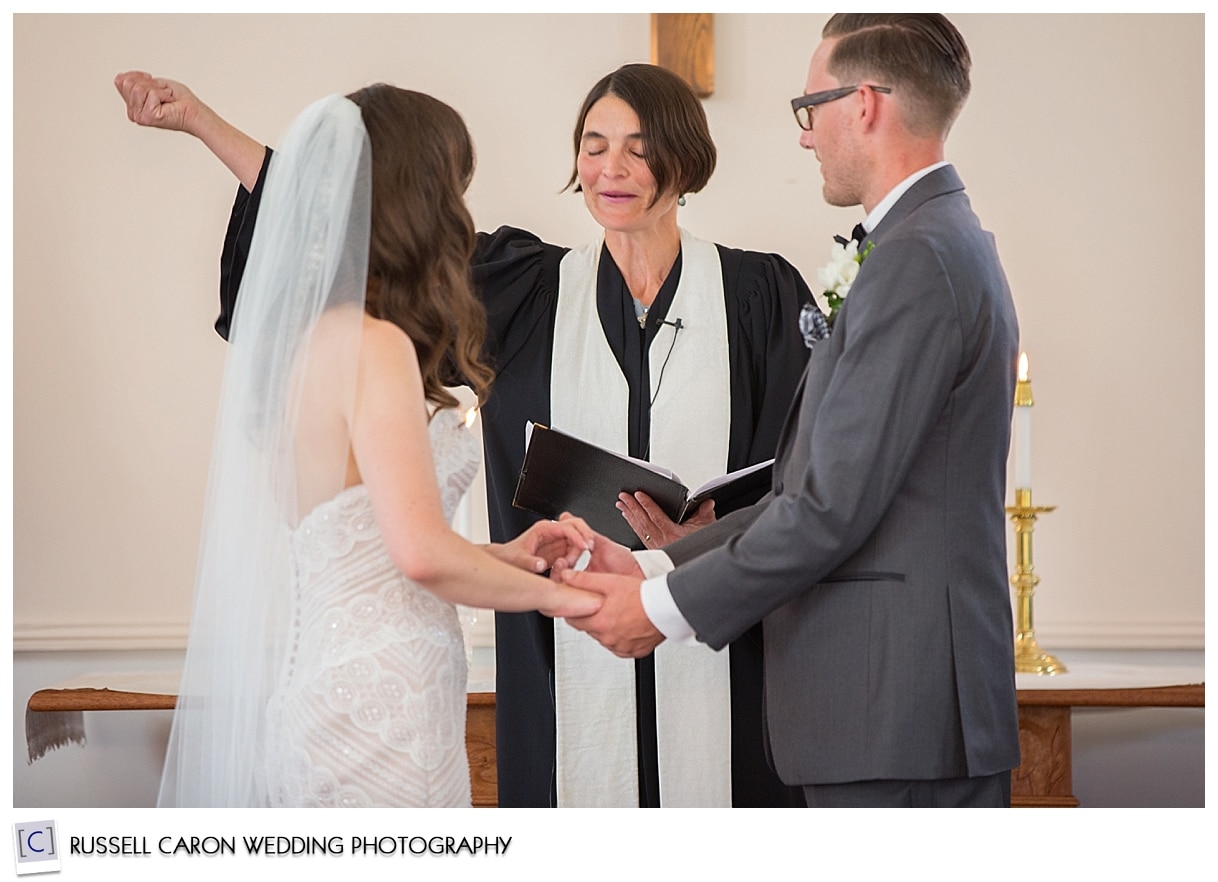 Rings on the fingers!!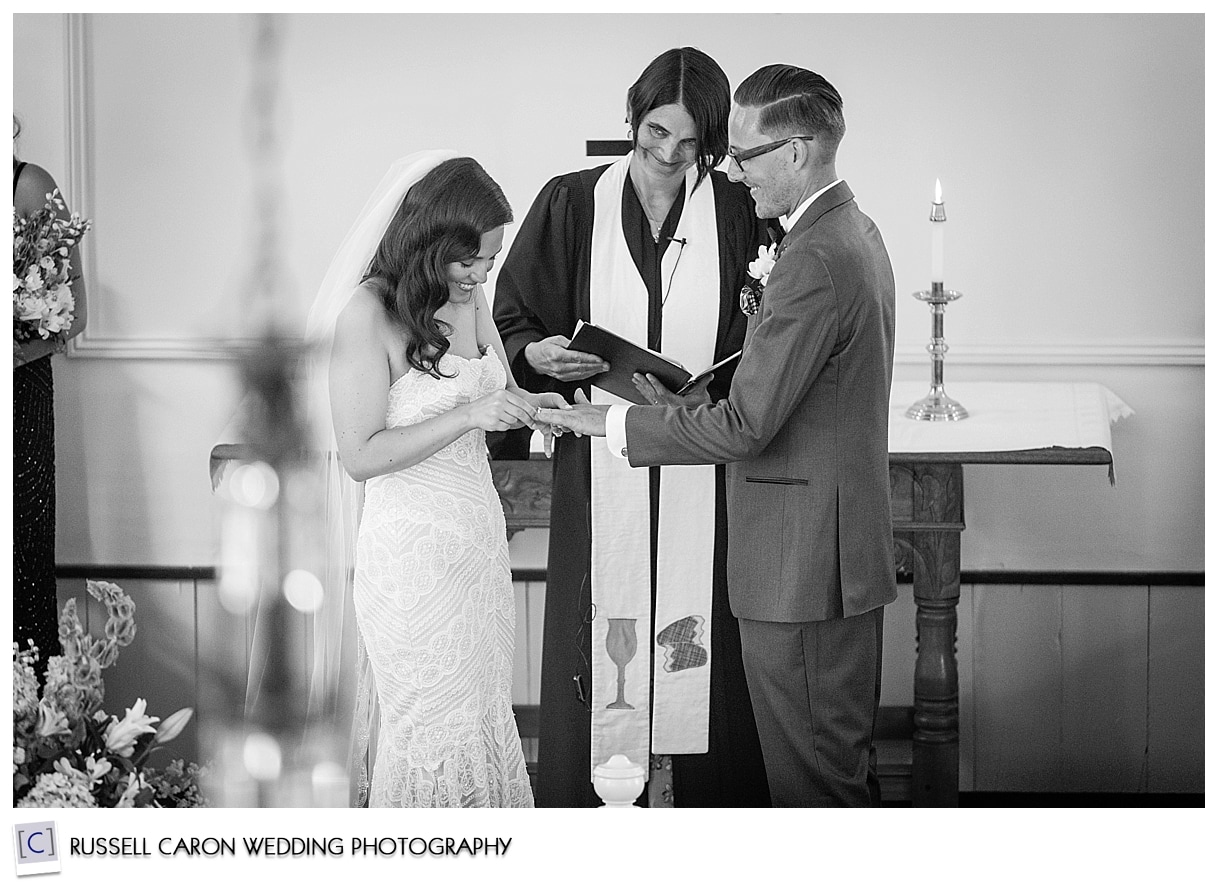 First kiss!
One very happy couple: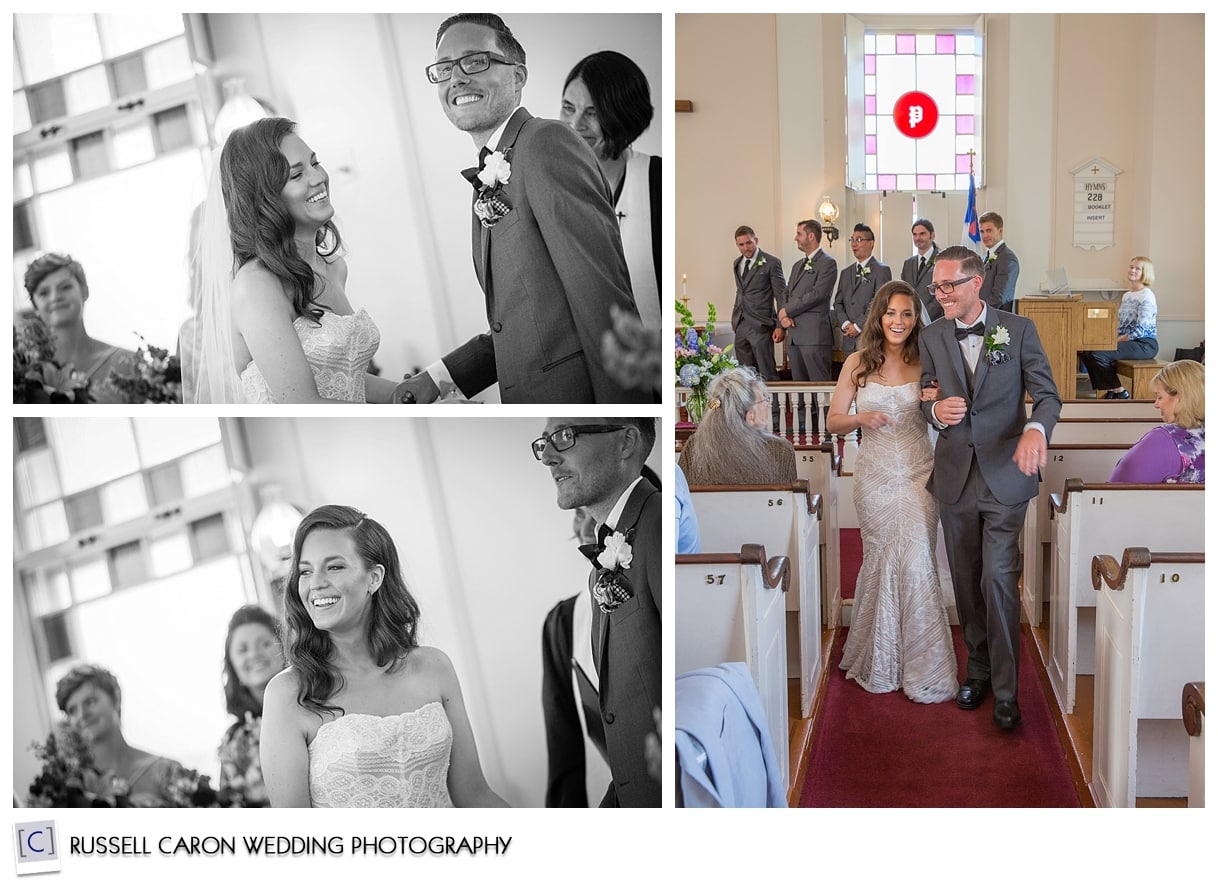 Ali joined Mitch as they departed the church for a yank and heft on the church bell as it tolled.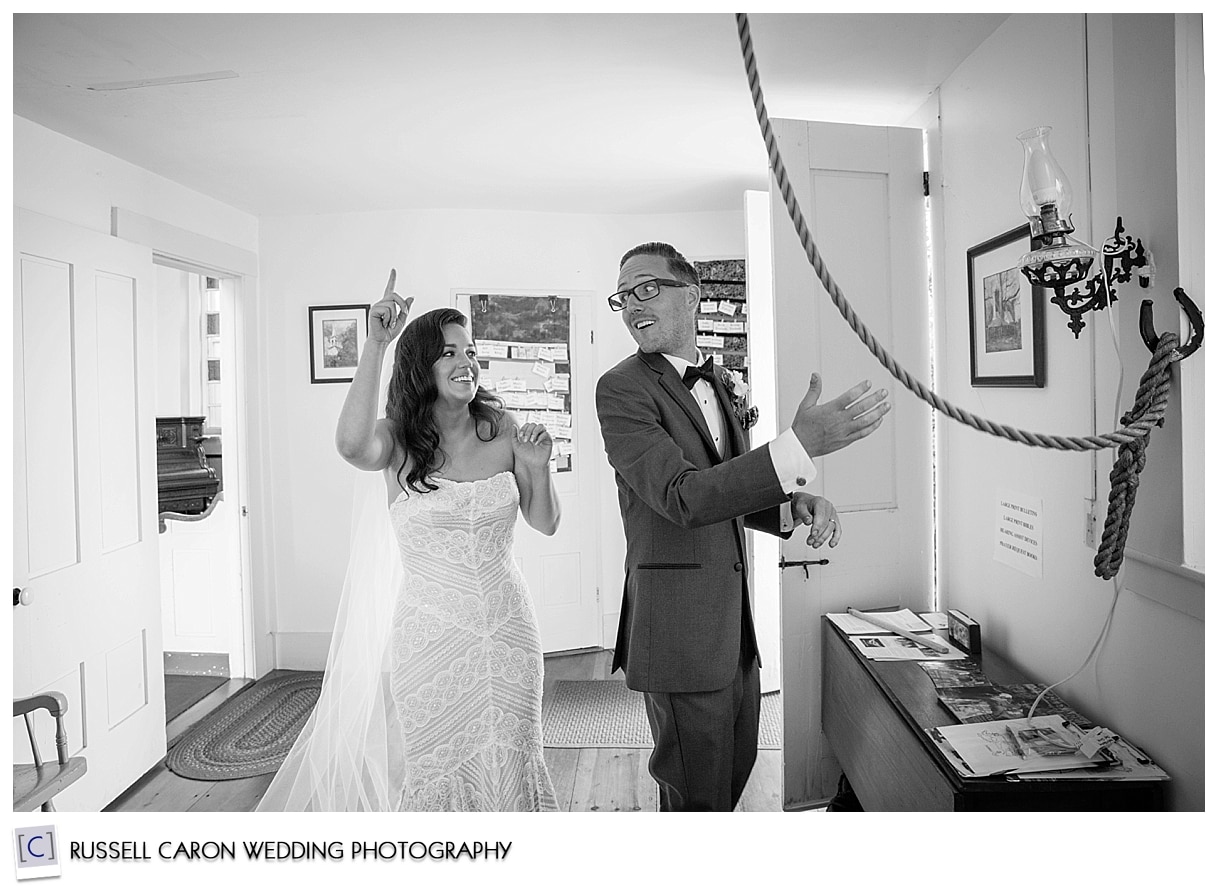 Bagpiping set the stage for the first moments after the ceremony both inside and outside the church.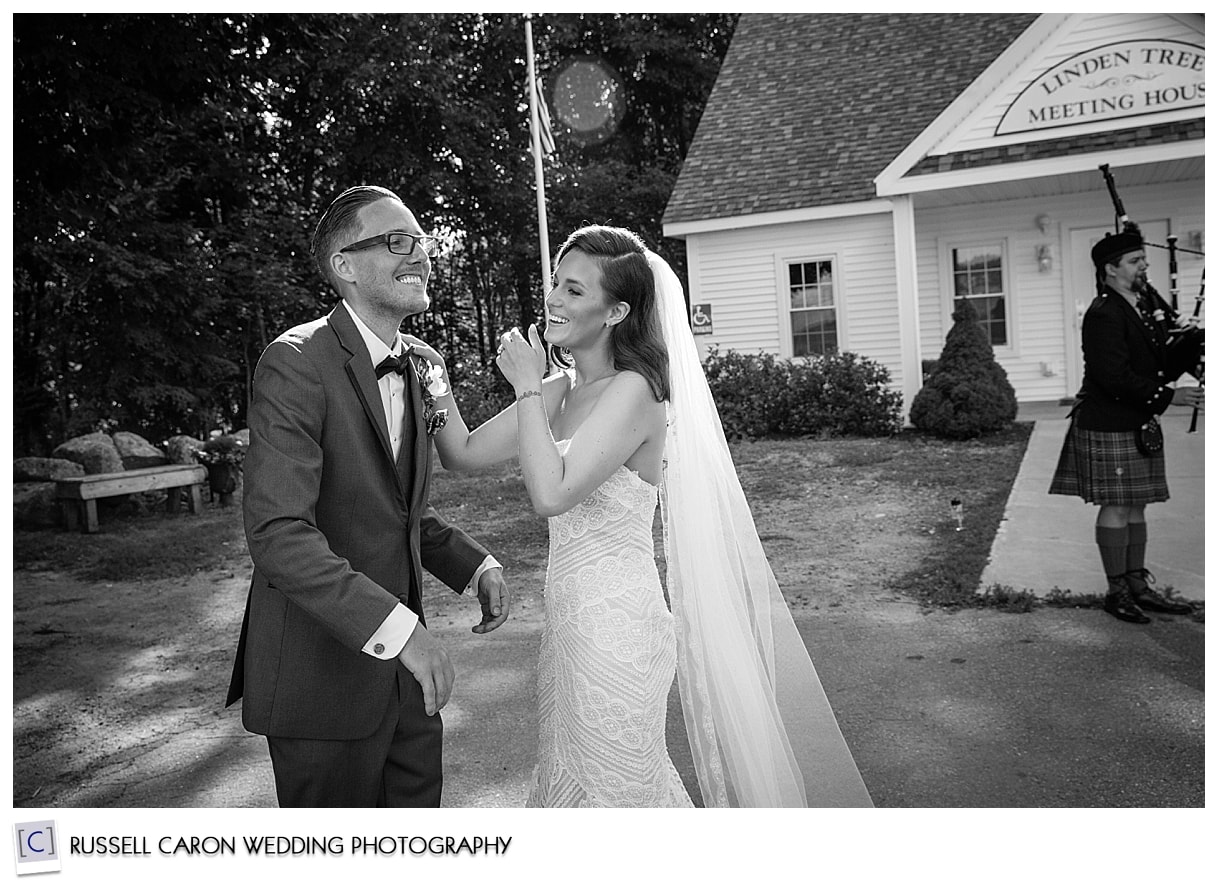 Ali and Mitch as their guests serenade them with bubbles, below.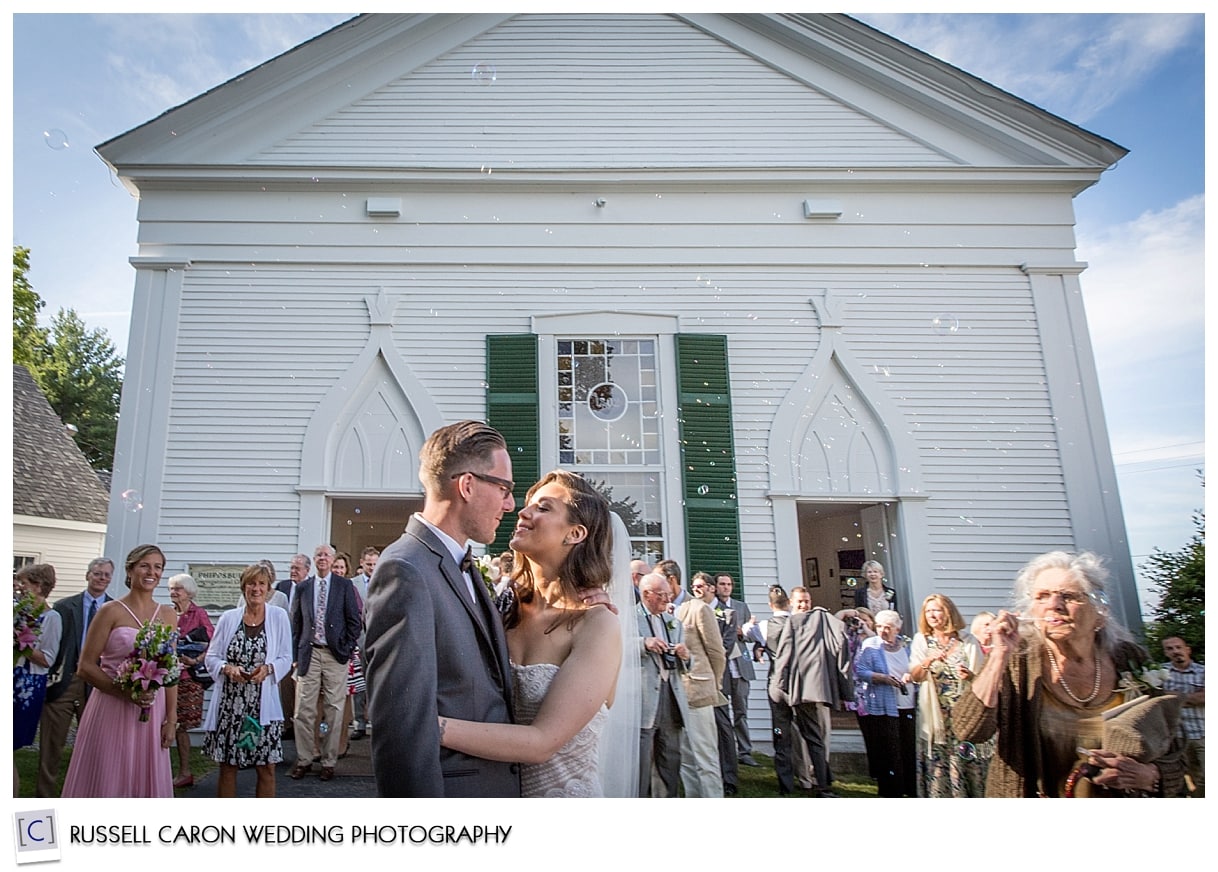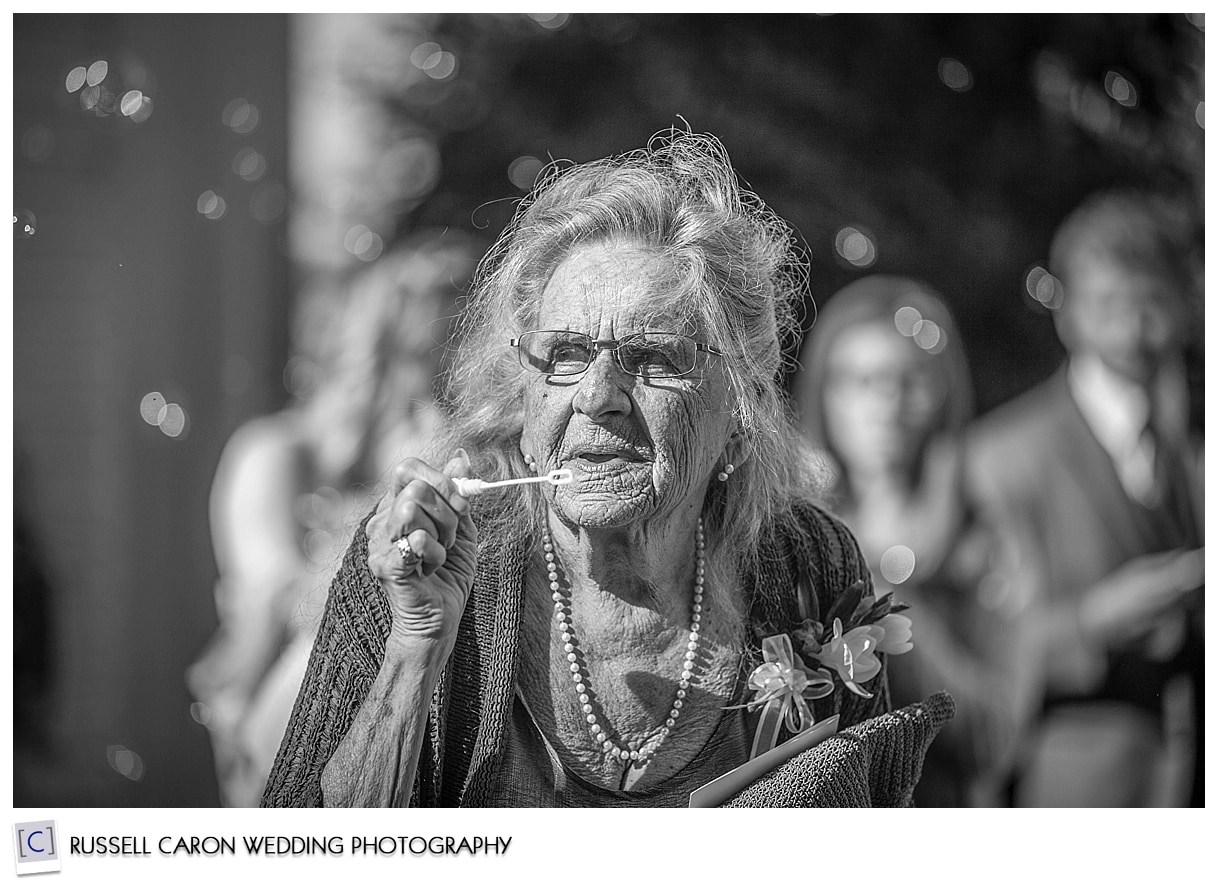 As eluded earlier, the weather changed dramatically during the ceremony; those gray skies now vivid and blue.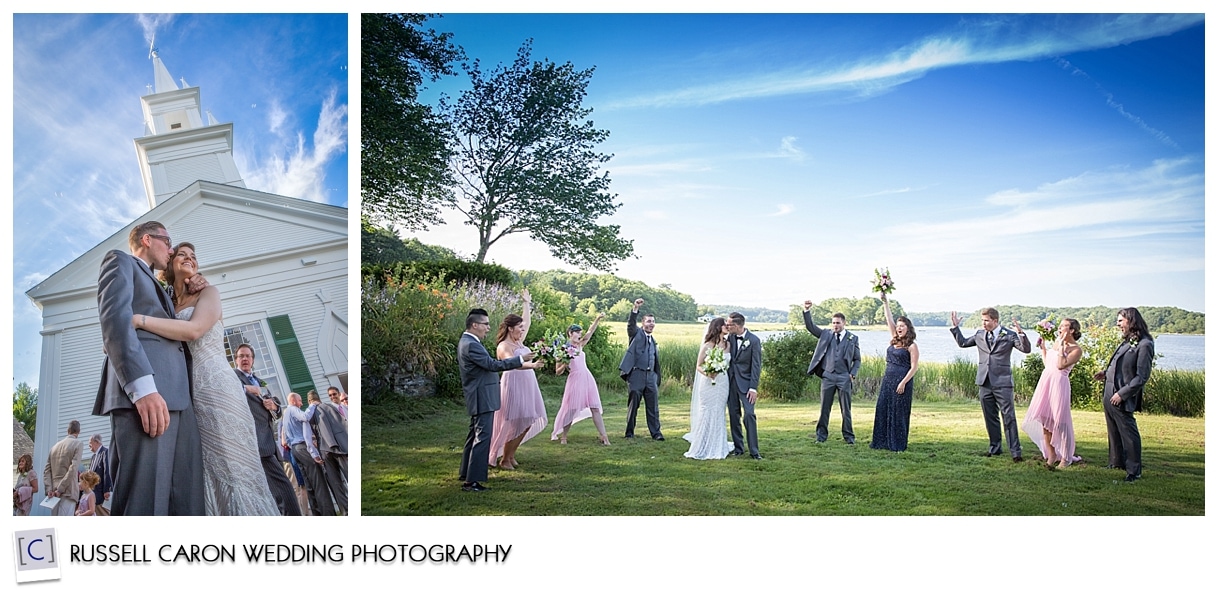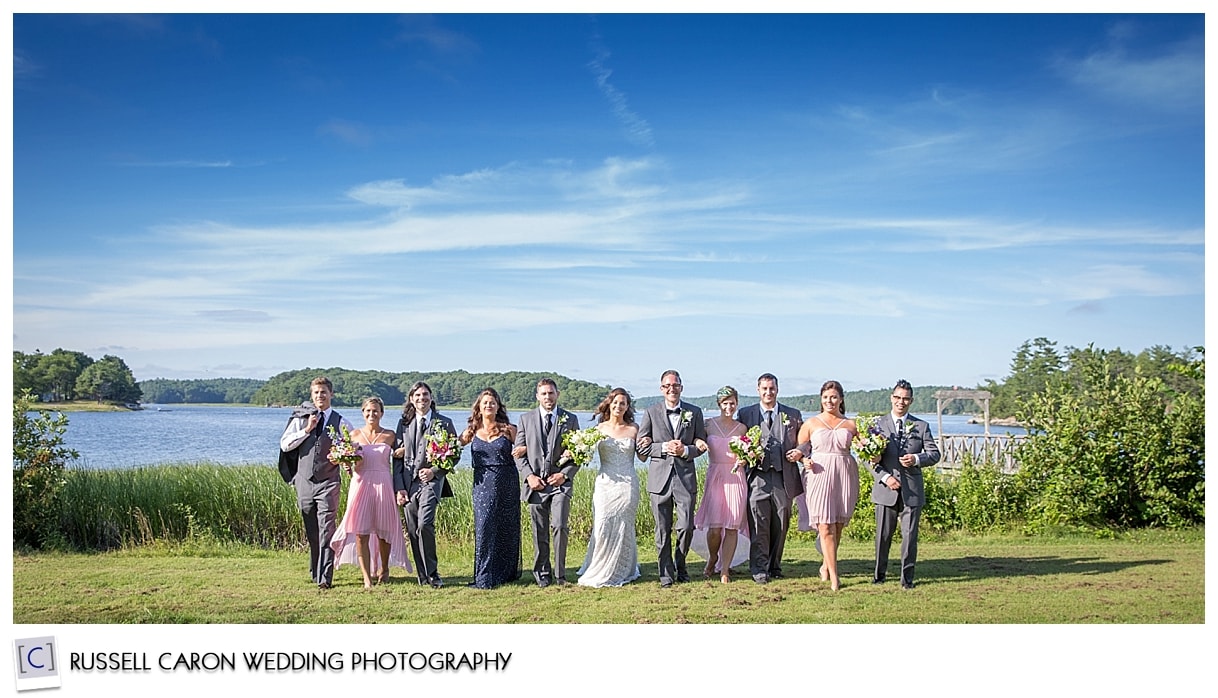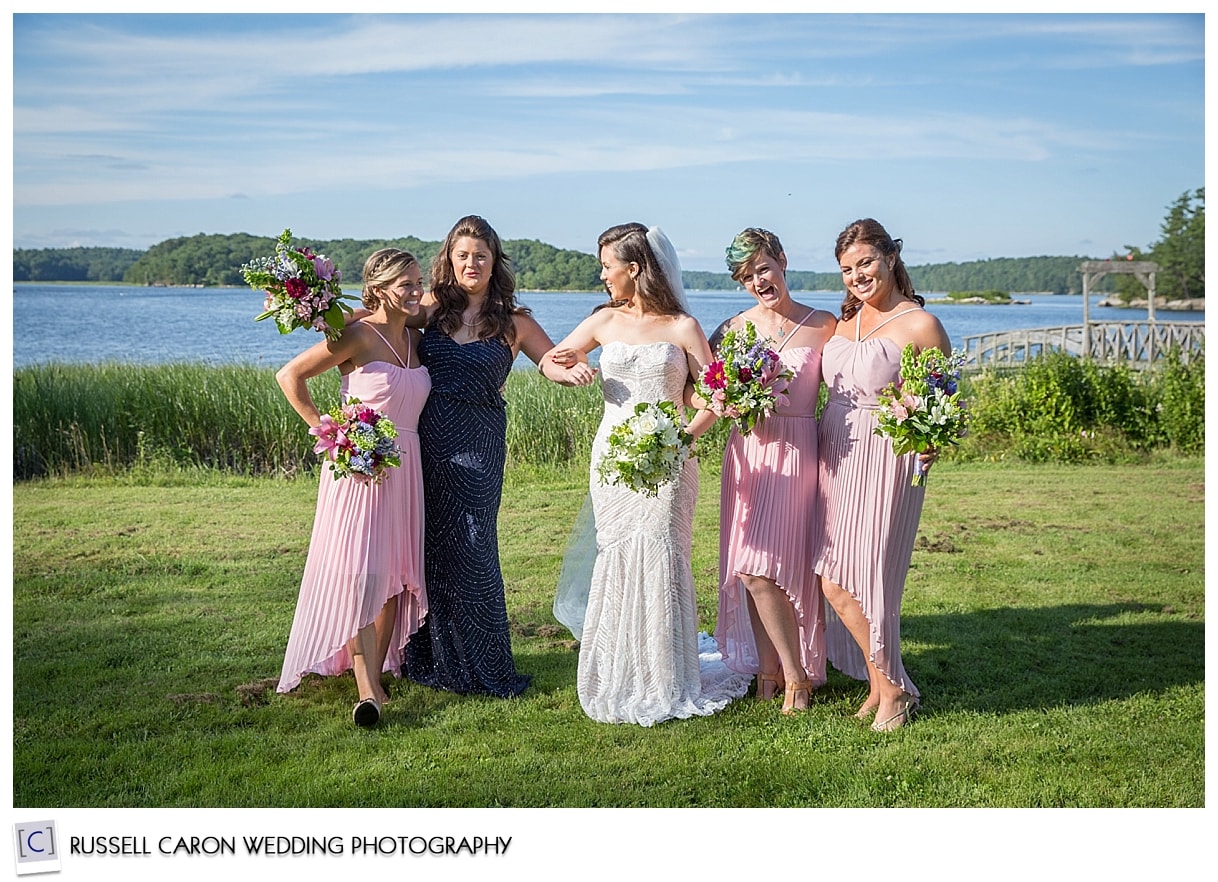 There's little more iconic than a beautiful wedding portrait with a quintessential church, the one in fact where the wedding just occurred, in the background.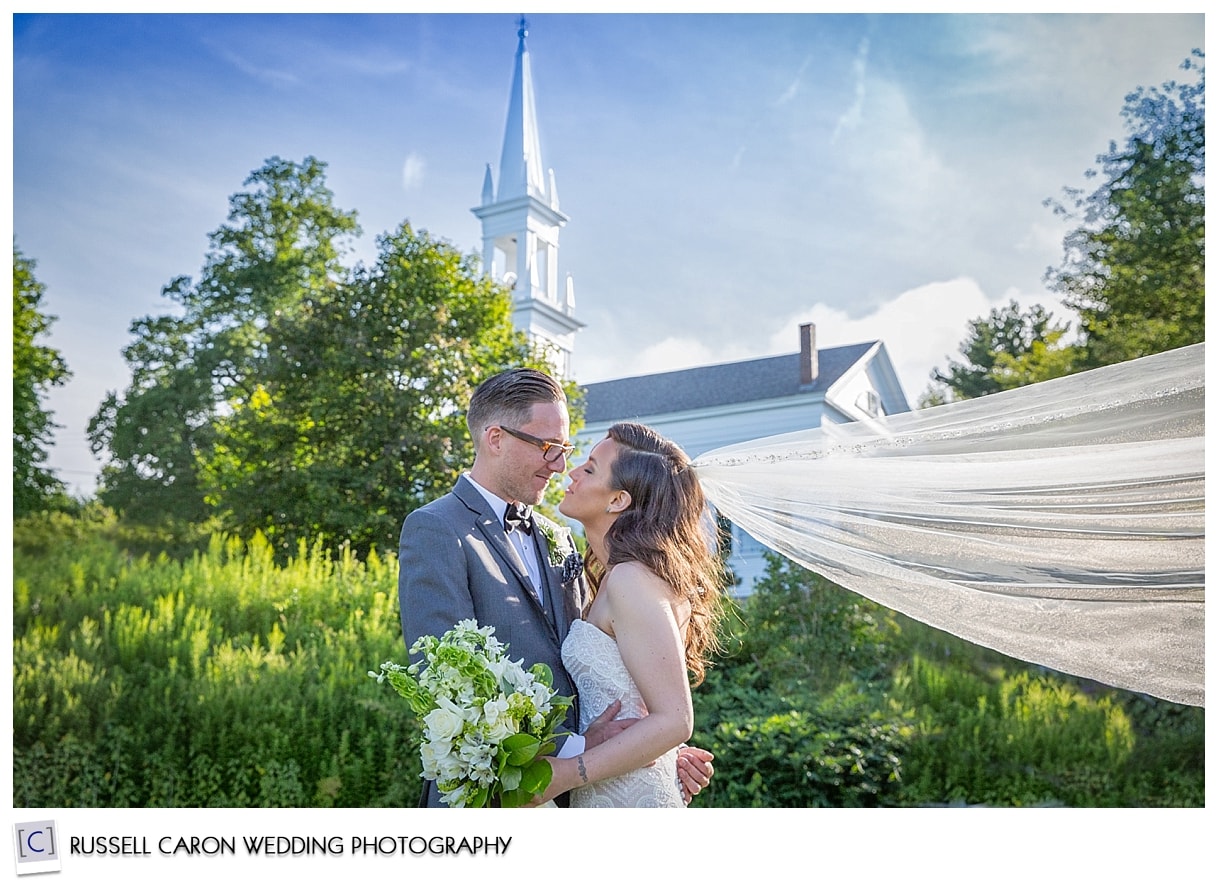 Aurora Provisions did an incredible job with food, wine, and service. Below.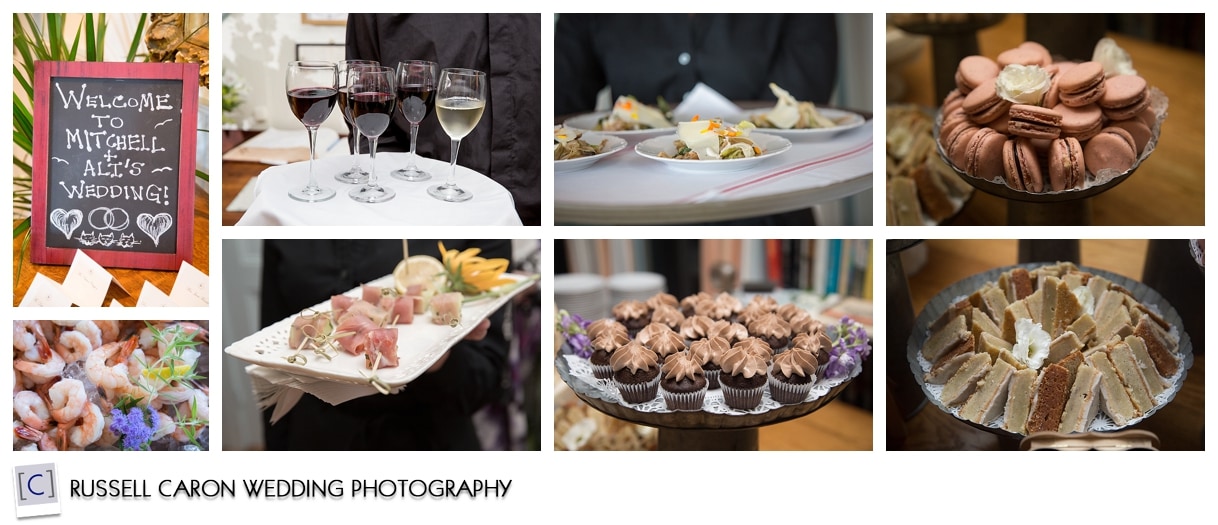 The Small Point Club was the perfect setting for this coastal Maine wedding! Below.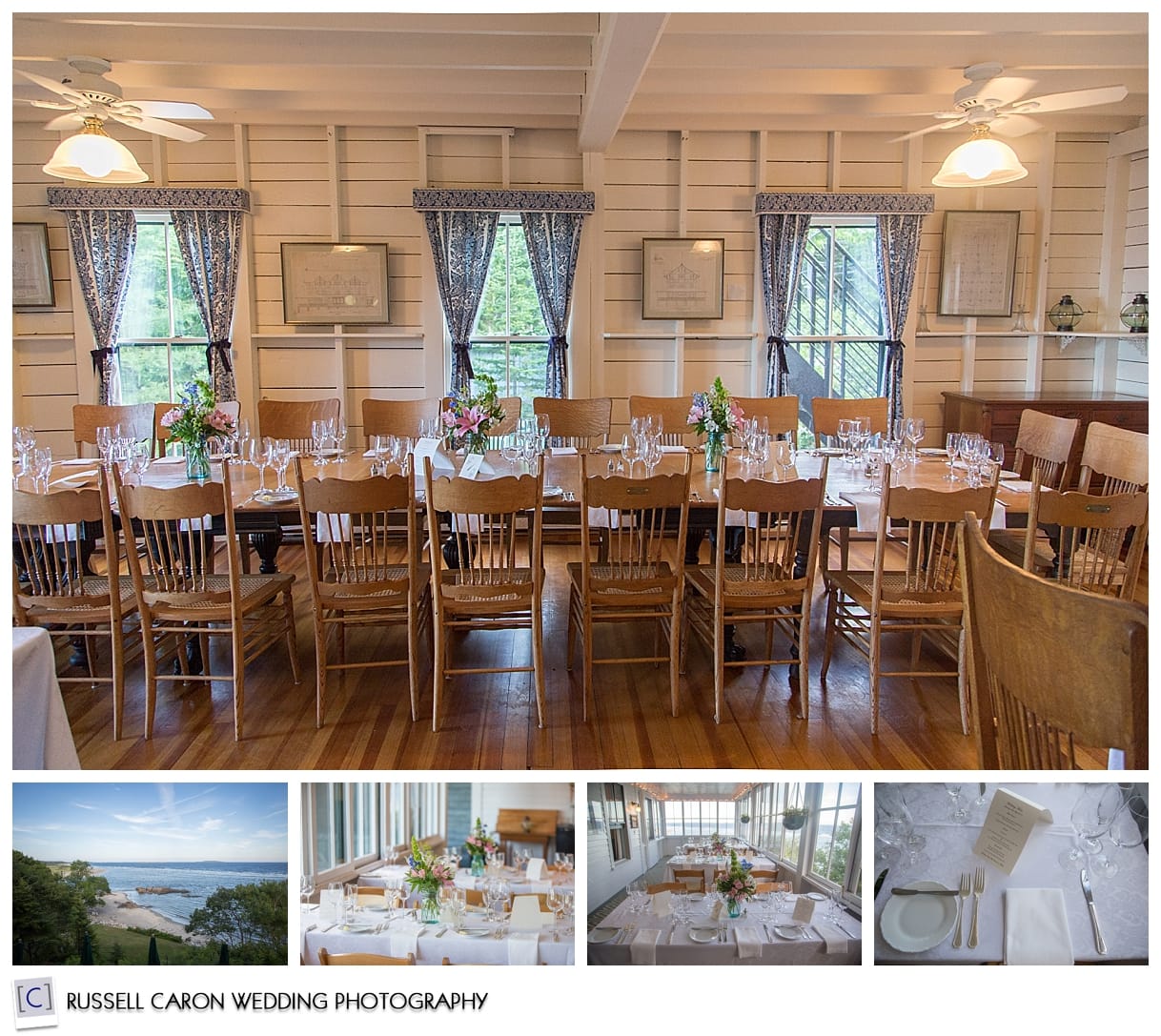 A quiet moment of solitude before a few family photos were taken at the Small Point Club, seen below right from the quiet expansive beach-like shore along the Kennebec, just before it meets the Atlantic Ocean.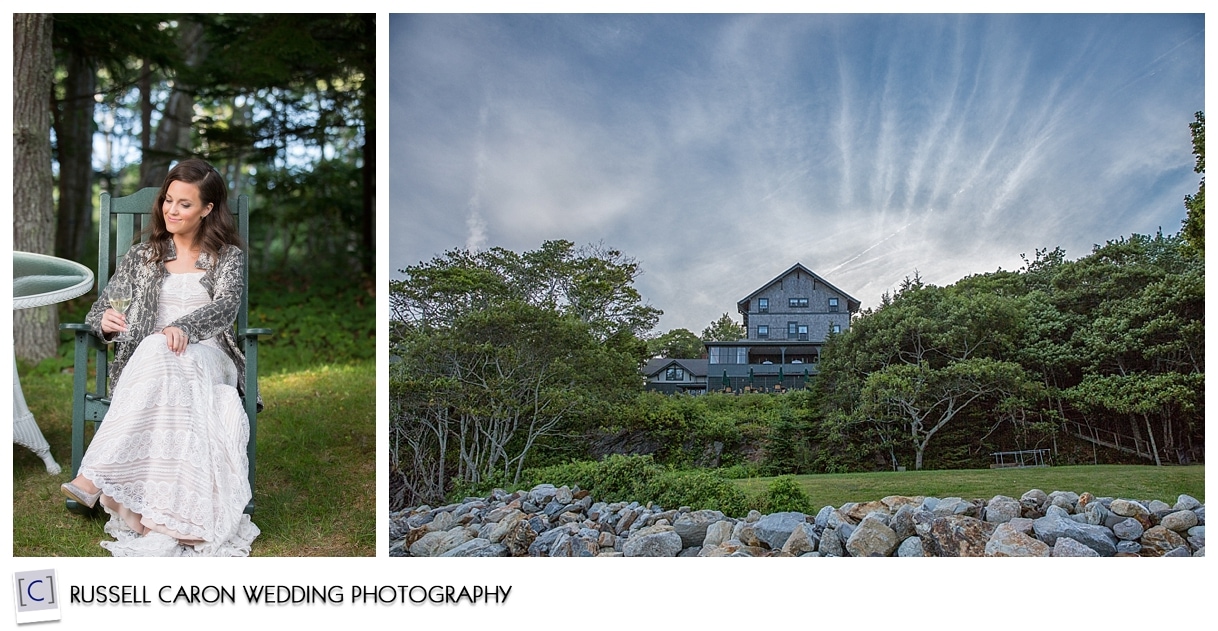 Below two panels, Ali and Mitch have a few quiet minutes together before the reception gets underway. This location could not be more peaceful or beautiful.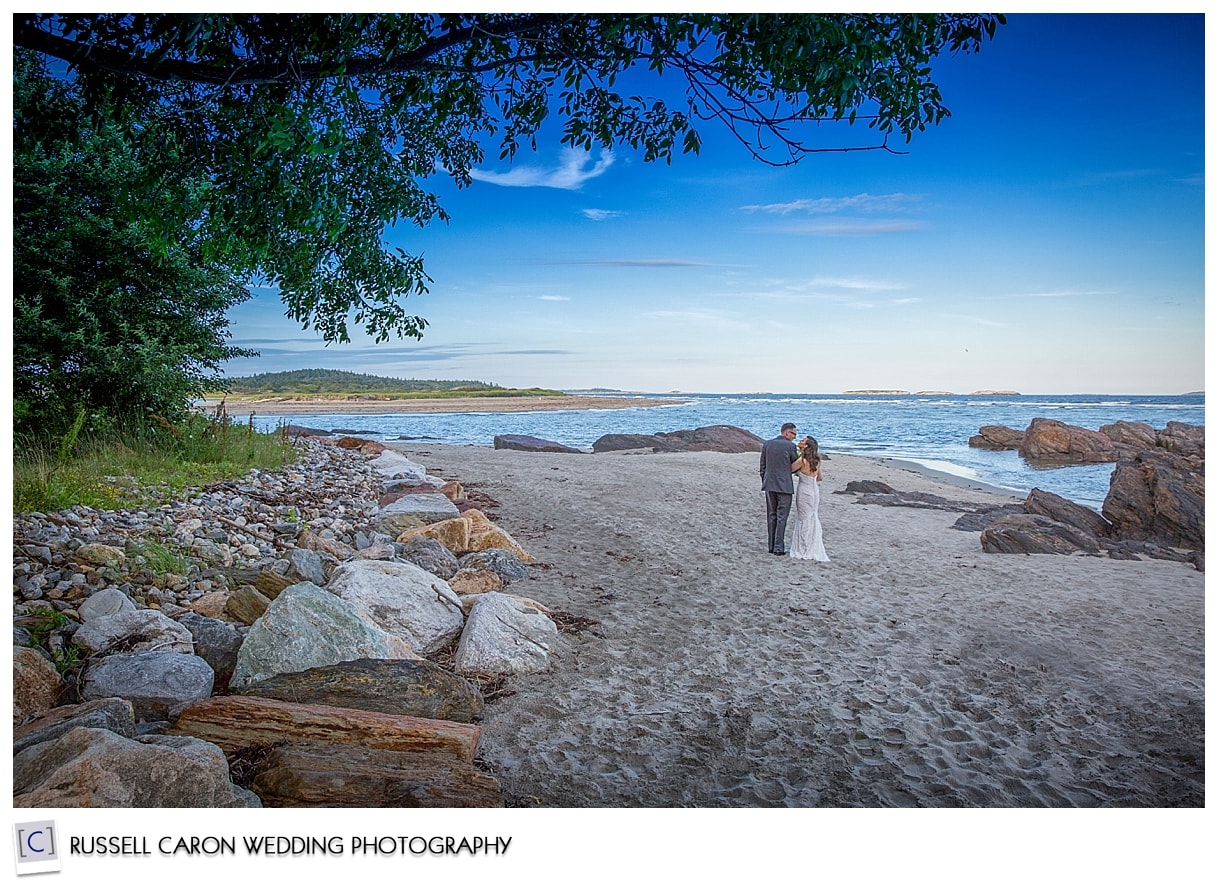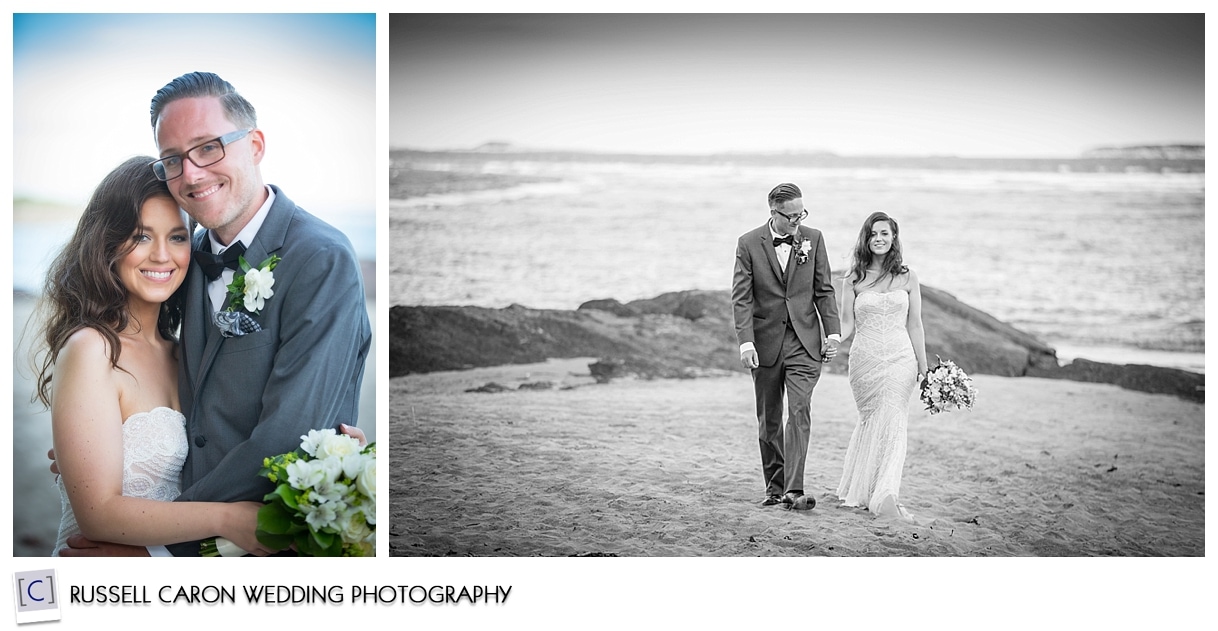 Toasts at the reception by Olivia, Ali's sister, and maid-of-honor.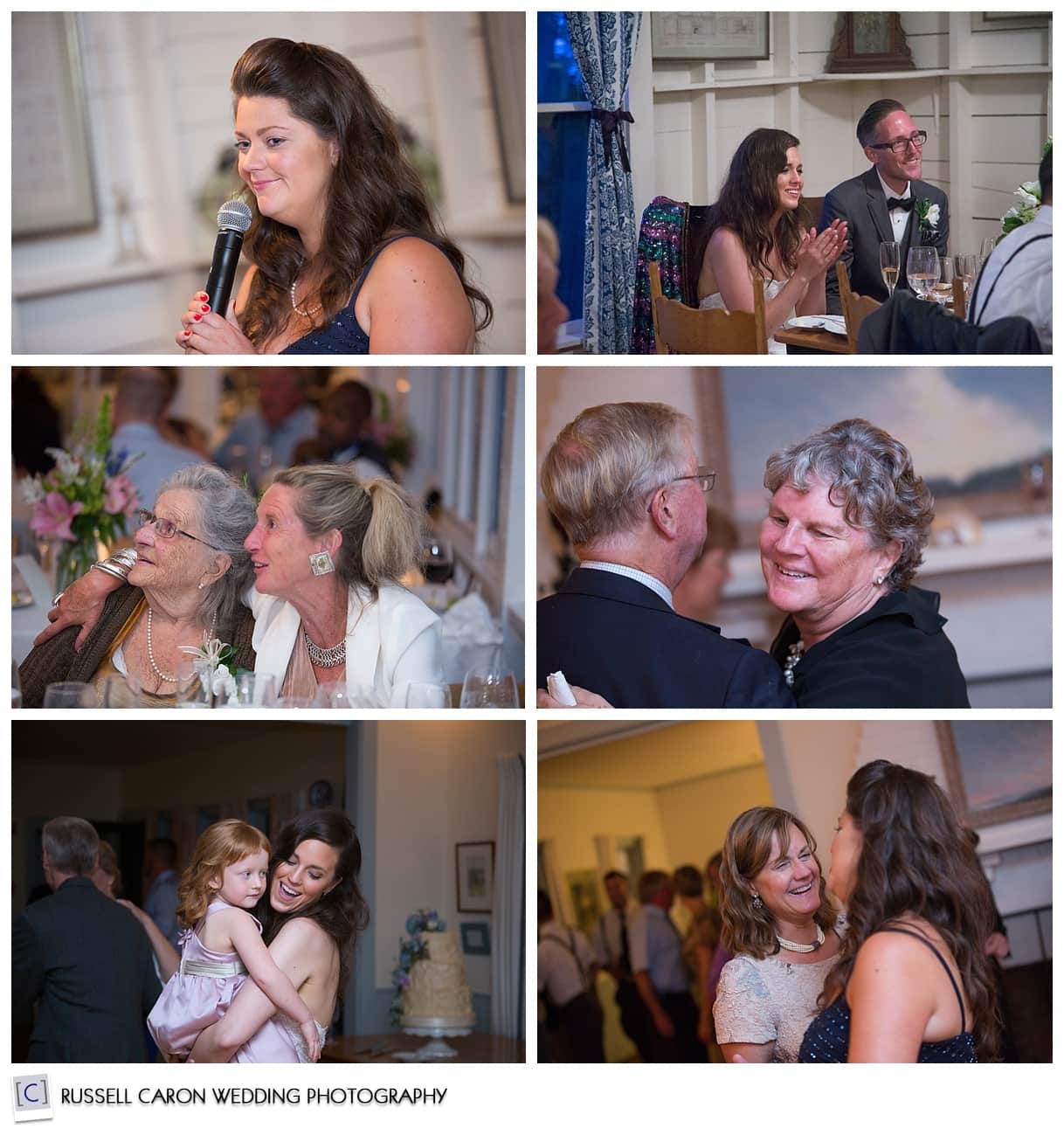 First dance!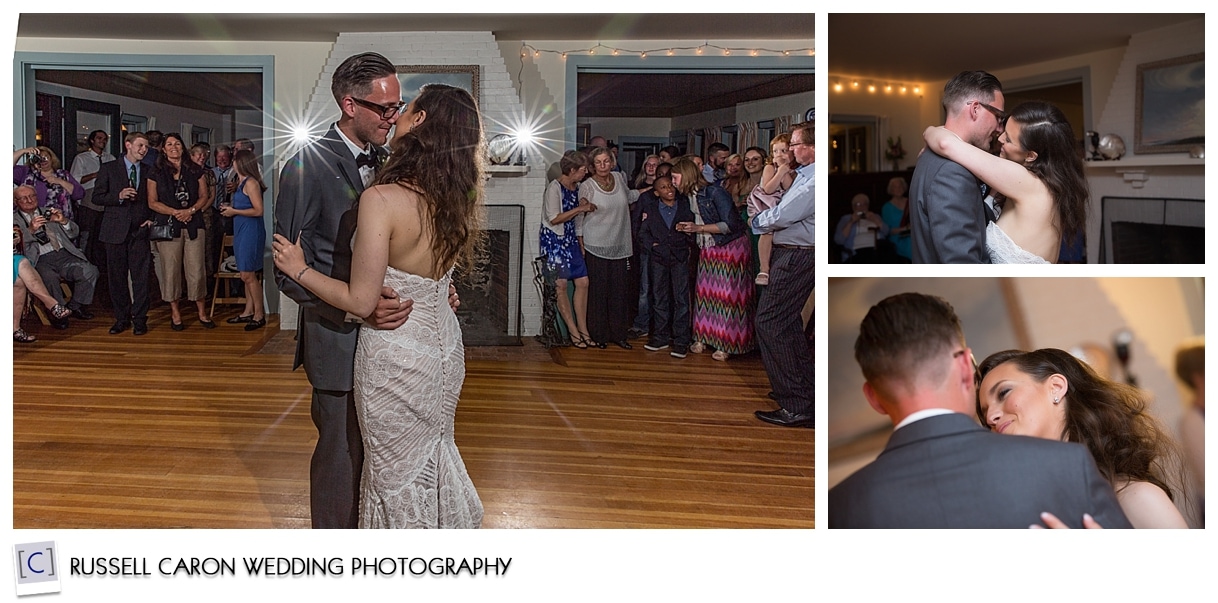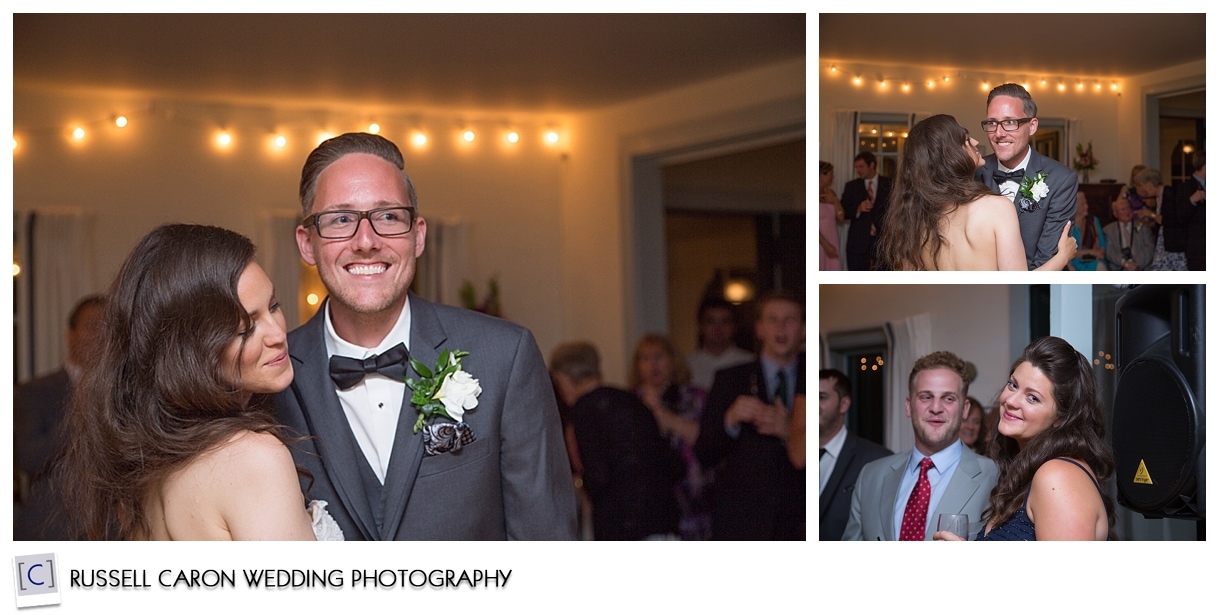 A touching father-daughter dance, below.  

Cake-cutting fun enjoyed by nearly all the guests!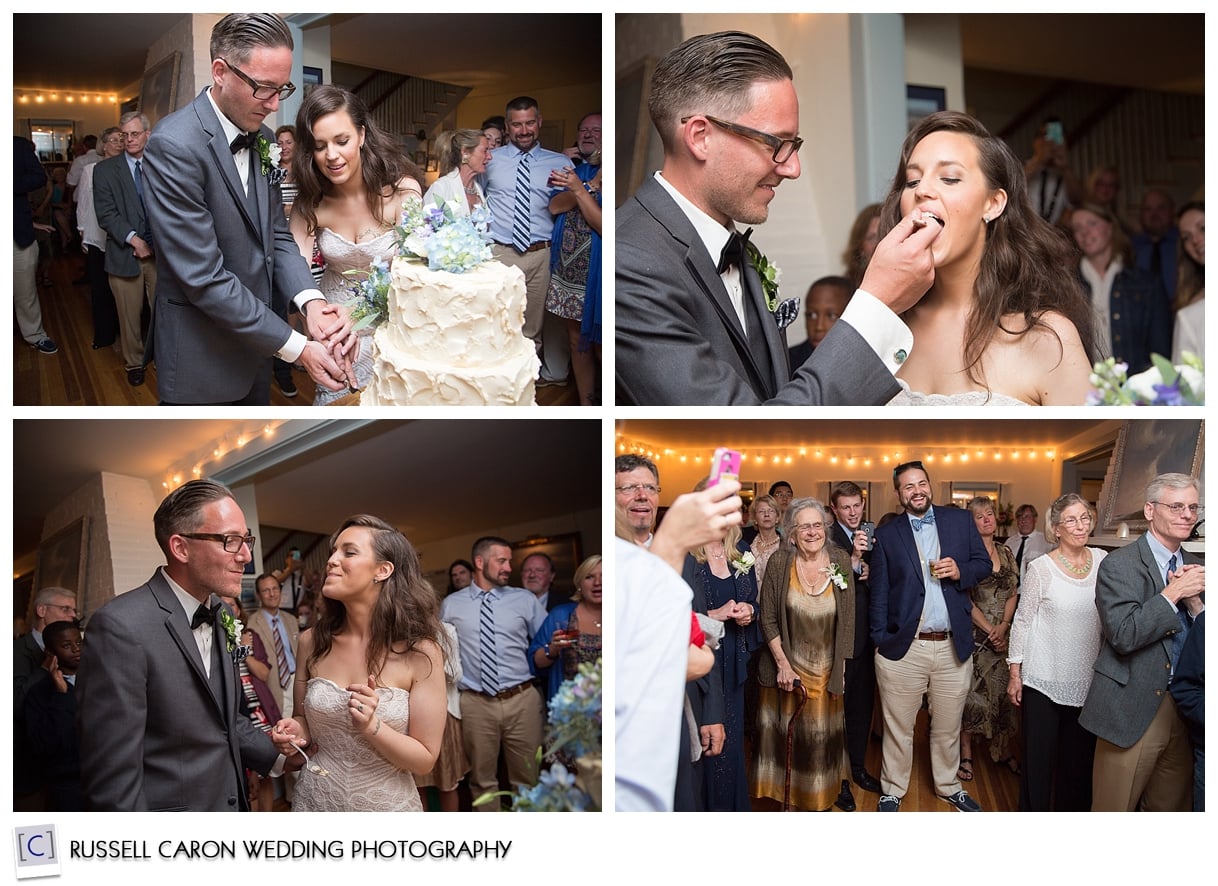 Coastal Maine wedding photographers, Russell Caron Wedding Photography, would love to be involved in your wedding day, just as we were for Ali and Mitch. Whether you're having a Coastal Maine wedding, or a tropical wedding at a Caribbean resort, we would love to join you in creating timeless memories you'll enjoy for generations to come. For more information, please contact us right away!
Venue: Small Point Club
Photographer: Russell Caron Wedding Photography
Day of Event Planner: Jill Bean Wedding and Event Design
Catering Company: Aurora Provisions
Wedding gown: Andrea's Bridal
DJ: Music Man DJ Service
Florist: Hawkes Flowers & Gifts
Hair and Makeup: Akari
Cake: A Little Somethin' Sweet