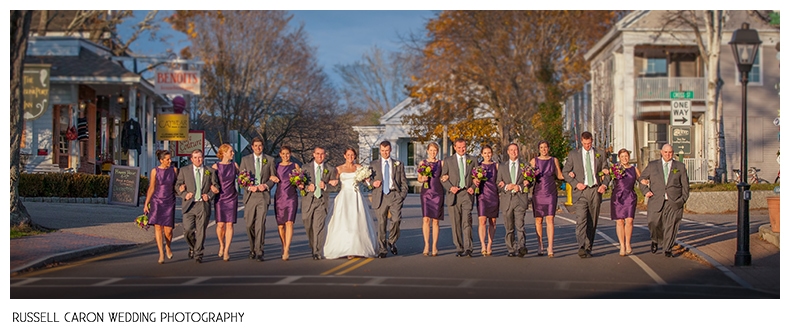 November blessed us with a great day for this really fun moment in Kennebunkport's Dock Square.  There was minimal traffic which allowed this bridal party to walk through the street. But then again, at times like this, people generally really enjoy stopping and watching what's going on…almost as much as we love doing shots like this.  This image was picked up for prominent use in a brochure by a Kennebunkport, Maine resort group.  You can see how much fun the entire bridal party is having.  And the fun is infectious!  We just love doing what we do and making these beautiful lasting memories.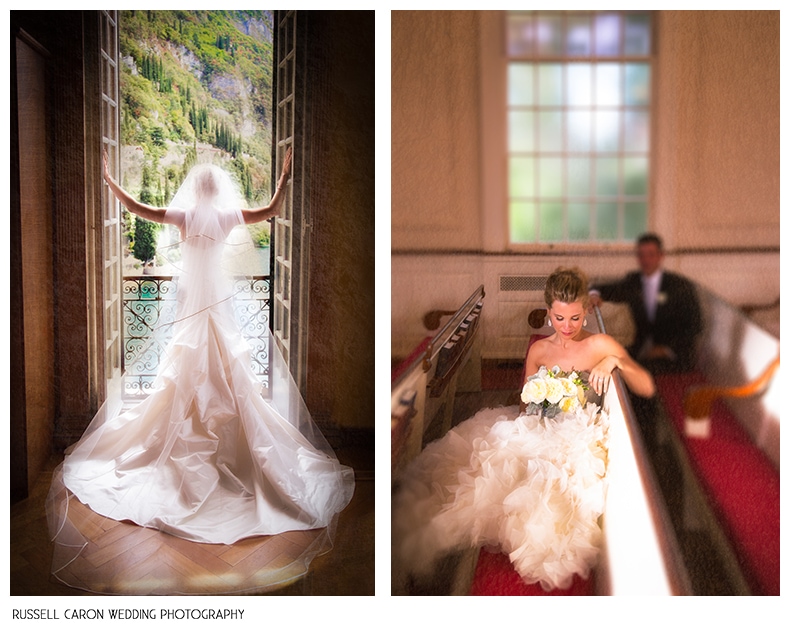 September had us crossing the Atlantic with weddings at Lake Como, Italy and Camden, Maine, just days apart.  We love these quiet moments as they make some beautiful portraits that will evoke warm memories for years to come.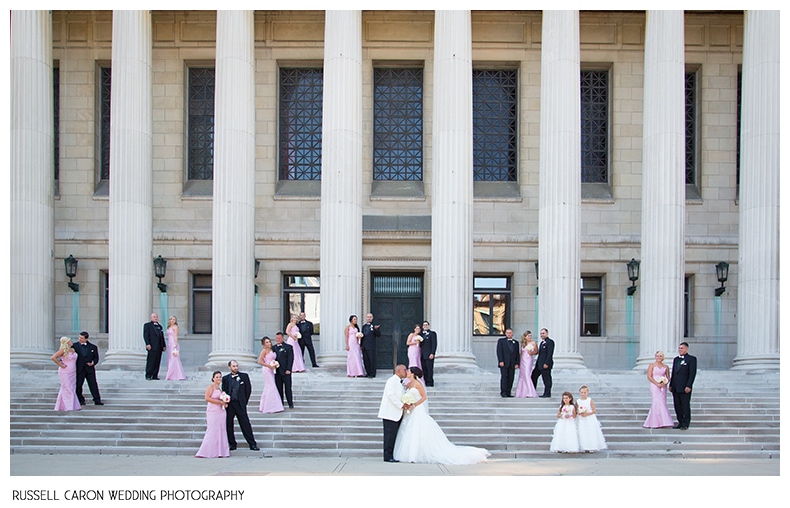 Our bride and groom had prearranged the use of the Springfield, MA, City Hall for the bridal party portraits.  Here the party gathers on the front steps on a hot August afternoon.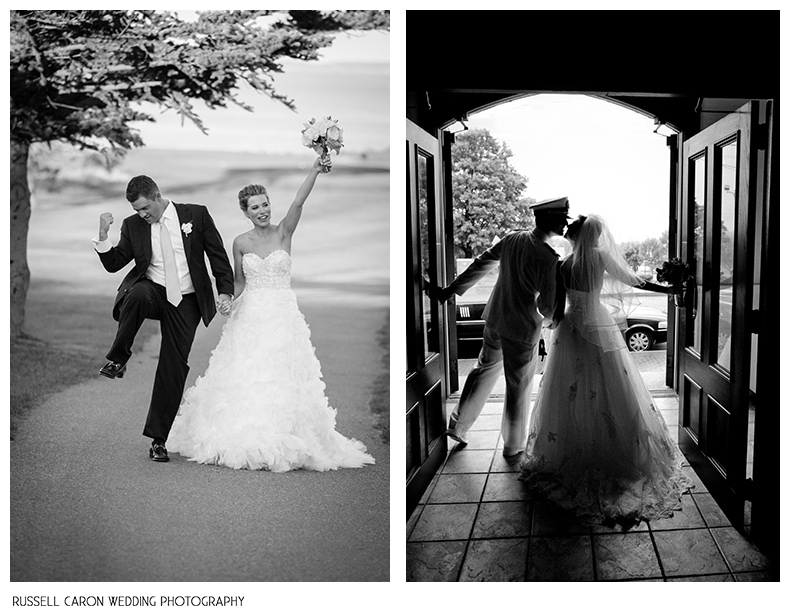 We love spontaneous moments,  that's what makes wedding photography what it is for us today.  These are both absolutely real, not directed, images of genuine moments, and we glory at being able to share them with our couples.

This couple was fortunate enough to come back to their own home and gave us the time to pose in their field in Cumberland, Maine, amidst a dreamy September fog.   As photographers, we love fog and the aura it presents.  You can see them below, right, as well.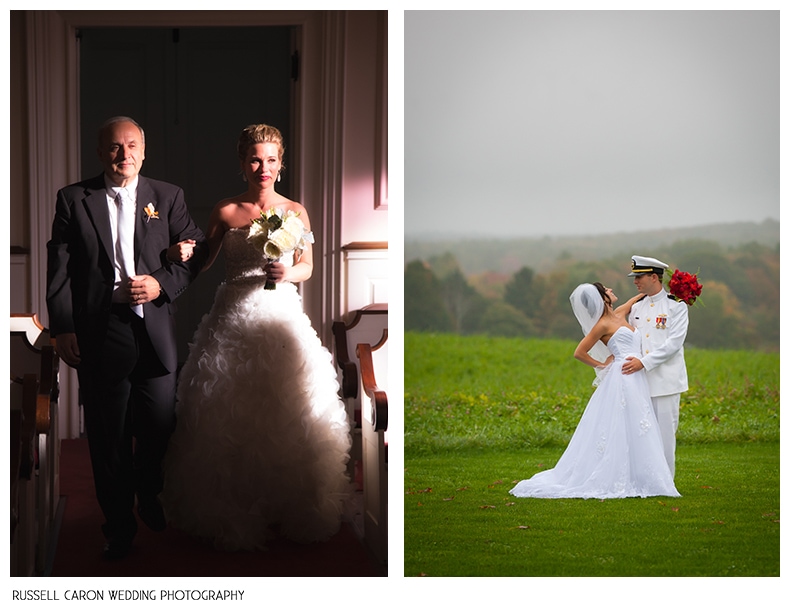 (L) One of our favorite churches is in Camden, Maine, and we love the way the September sun will illuminate the bride as she enters the church.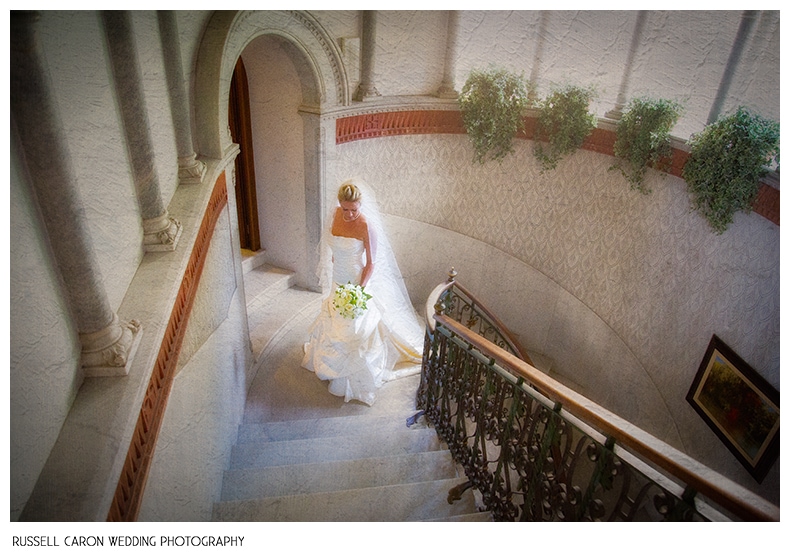 One of the many things that we were impressed with in Italy was the grandeur of their architecture as evidenced in this hotel stairway and lobby.  We were fortunate to have some private moments to capture for some special bridal images.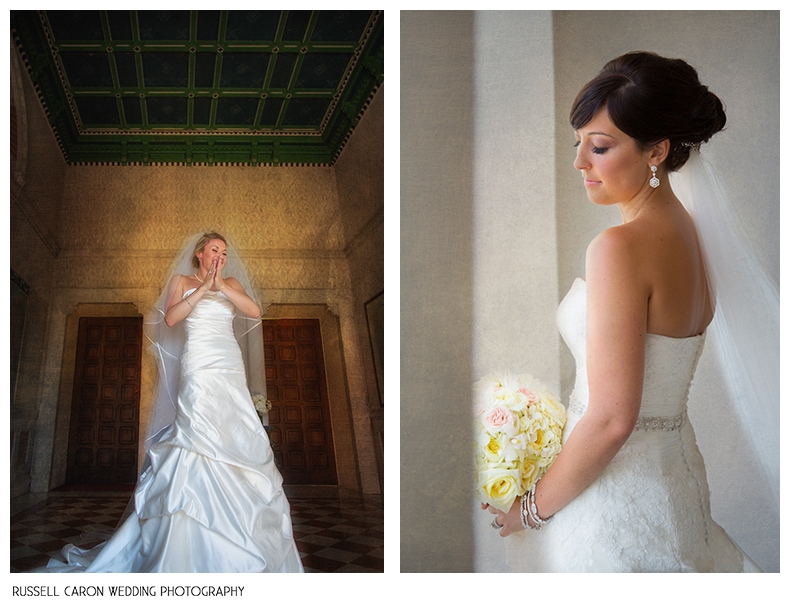 Be it Italy (L) or New England (R), our brides always radiate so beautifully on wedding day.  The feel that all brides have a special glow that can only come from within, and we feel honored to be able to capture that in beautiful portraiture.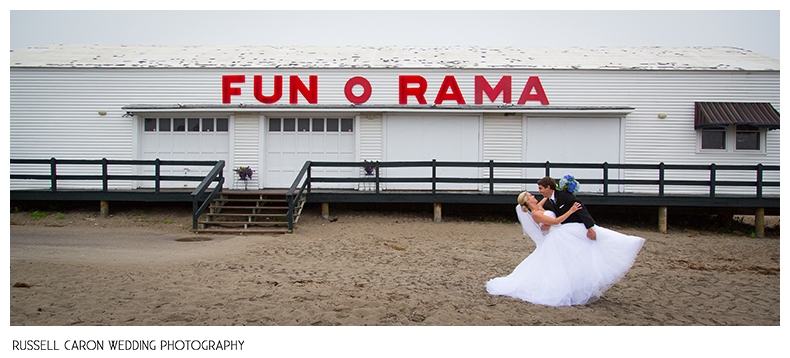 We always love having fun at the classic Fun-o-Rama in York Beach, Maine!  This was a mid-week, preseason June wedding and we had the place literally all to ourselves.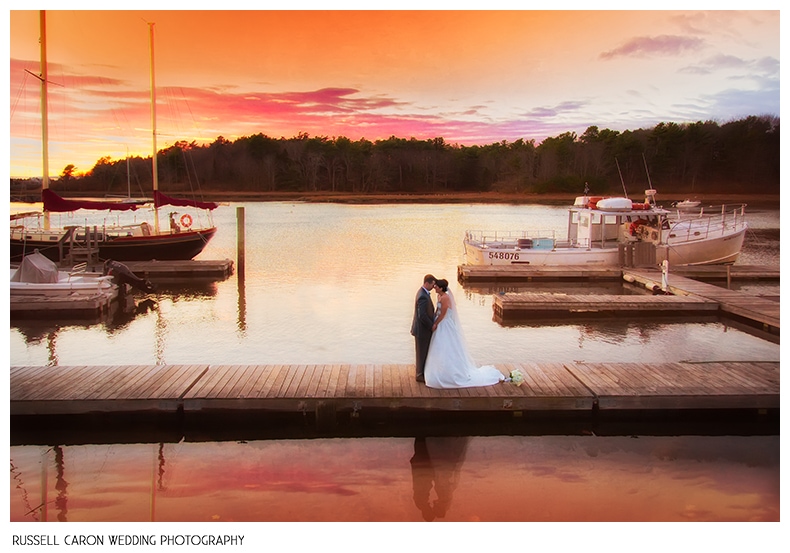 Another image from our lovely early November wedding at the Nonantum Resort in Kennebunkport, Maine, we were blessed with a beautiful sunset and we were so thankful that the bride and groom were game to pose for us on the dock.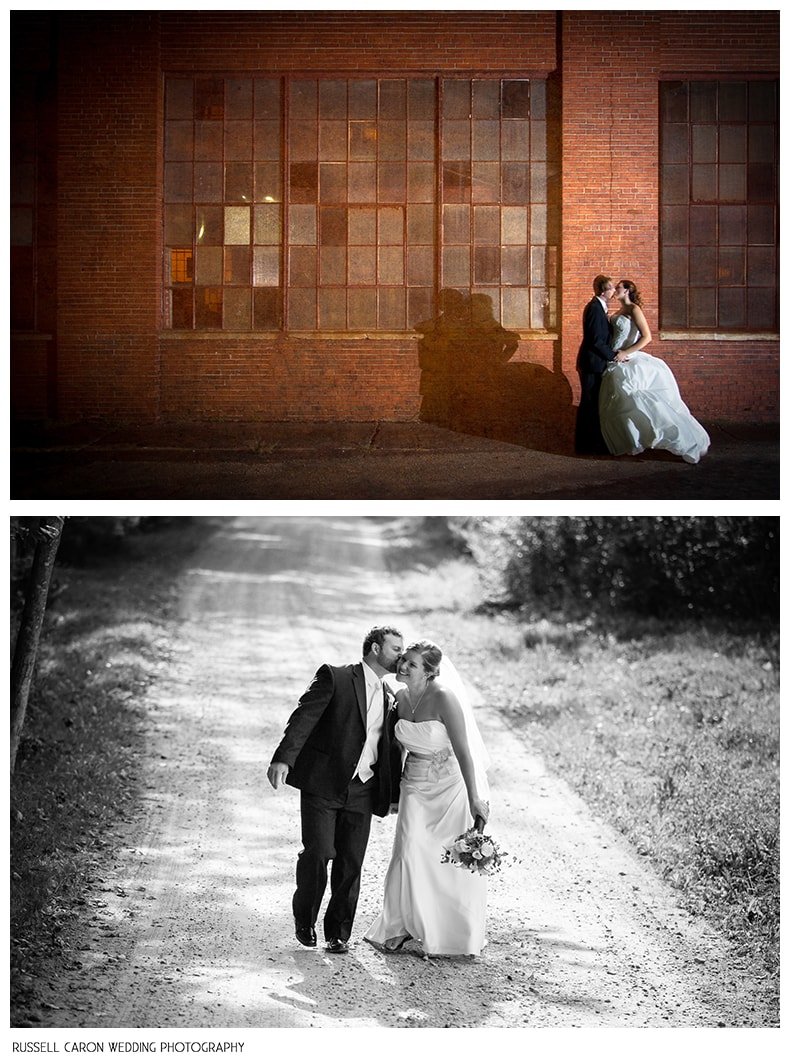 (TOP) We took our couple during their reception at Portland Company Complex, outside for a quick artistic shot in front of one of the older warehouse buildings and just loved the result. (ABOVE) In black and white, another special moment as the bride and her new groom walked the driveway at her childhood home during a warm day in August.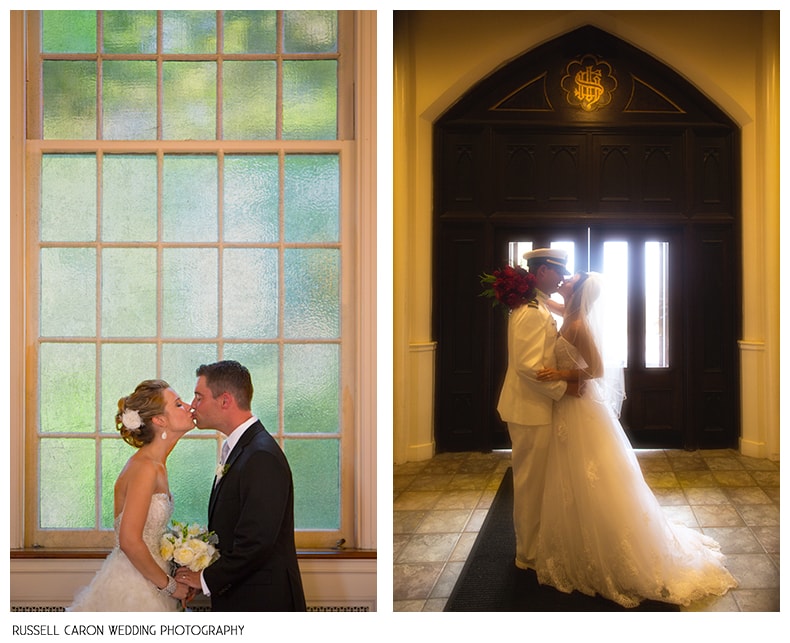 We love working with the light that various churches provide.  We promise to work efficiently and our clients know that the minutes they give us for images such as these are time very well spent, making memories that last a lifetime.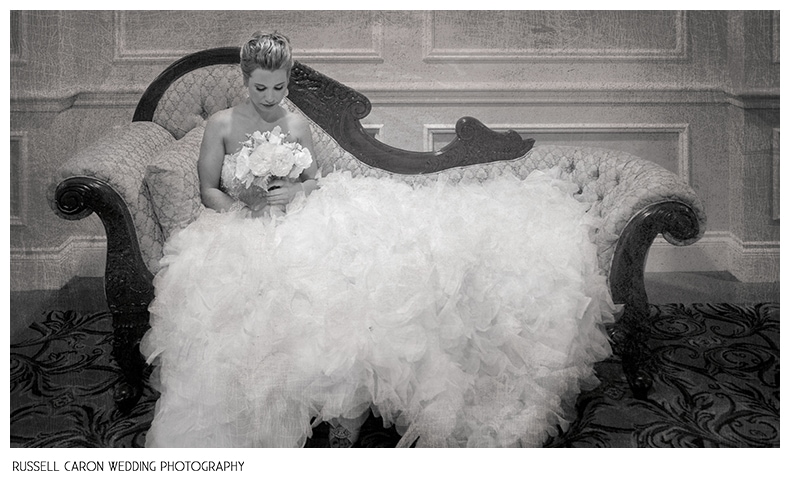 A classic bride with classic furnishings at Maine's Samoset Resort, Rockport, Maine.  A thoughtful moment before the ceremony.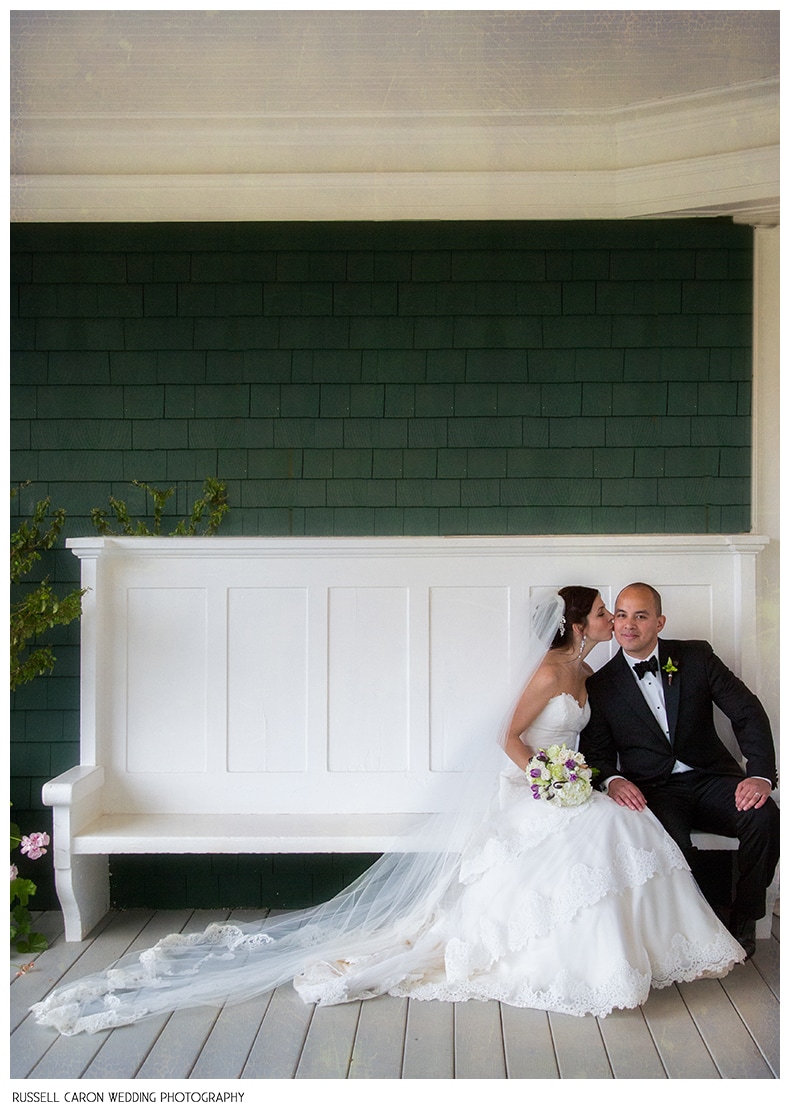 June brought us to one of our very favorite venues, French's Point in Stockton Springs, Maine.  This image was used on tens of thousands of magazine back covers as it was selected as the image for French's Point's ad campaign.

Weddings are not limited to being celebrated just on weekends!  We had a wonderful time in early August with this Monday wedding, photographed at Fort Williams Park in Cape Elizabeth, Maine.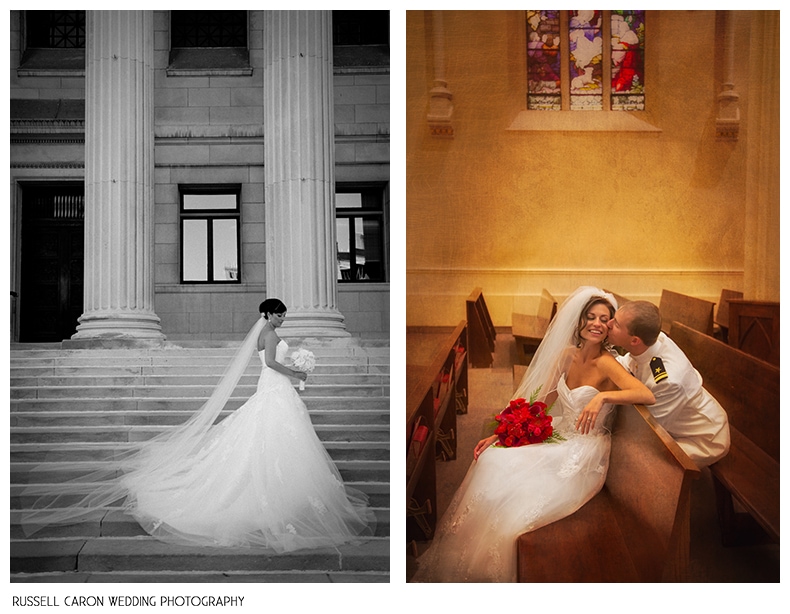 Our brides love these classic images.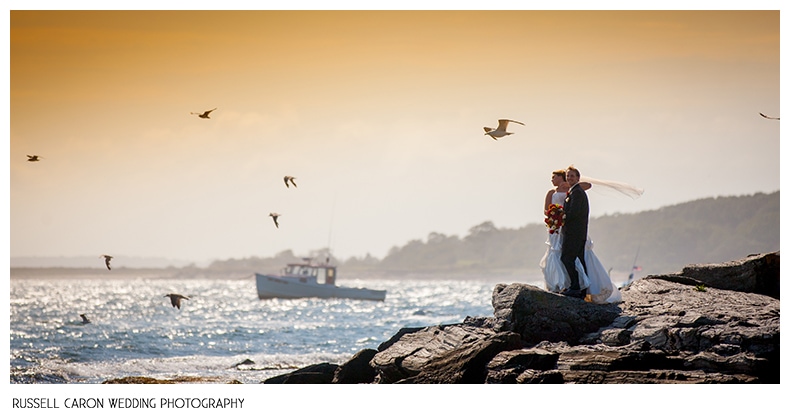 There was brilliant sun and strong wind at Kettle Cove in Cape Elizabeth, Maine, last September, and we decided to utilize this to the benefit of our images.  The gulls flying above just added to the interest of this photo.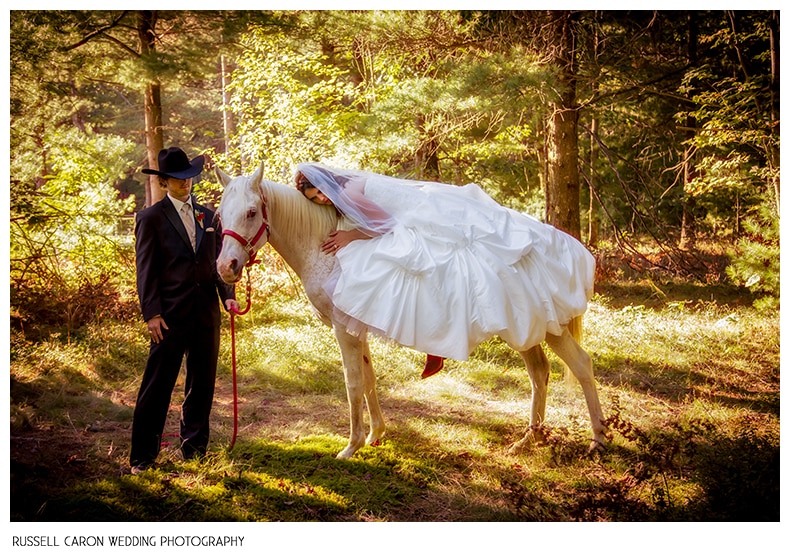 What can we say about the above image?  We absolutely love doing a post wedding day session.  Previously known as a trash the dress shoot, the reality is that nothing really gets ruined.  With the all important wedding day over, brides feel much more relaxed and can fully get into the spirit of posing without worrying about their gown.
This is the first in a multi post series depicting our favorite wedding photographs of 2012.  We love our work as weddings photographers!  Meeting so many wonderful couples and their families and friends, we feel that we become an integral part of one of the most photographed, emotional and memorable days of their lives.
Russell Caron Wedding Photography puts the fun into wedding photography for Maine wedding couples.  Feel the love as this dynamic pair effortlessly capture each of your cherished moments, producing natural poses and unparalleled art for your special day.  For more information, please contact us right away!