Sparkler Exits | 5 Essential Tips for Success | Maine Wedding Photographers
Sparkler send-offs, or sparkler exits, are a great way to involve your guests in some fun times, and get equally-great photos! A sparkler exit can create a fun, festive mood in photos. People find joy in being a part. And they just scream "celebration"!
We want to share with you are our five tips for creating great sparkler exits. These 5 essential sparkler exit tips will result in great photo ops. They'll also result in great memories, fun, excitement, and perhaps most importantly, everyone's safety!
5 Essential Tips for Beautiful Sparkler Exits:
Tip#1: You don't need to wait until the end of the night to do a sparker send-off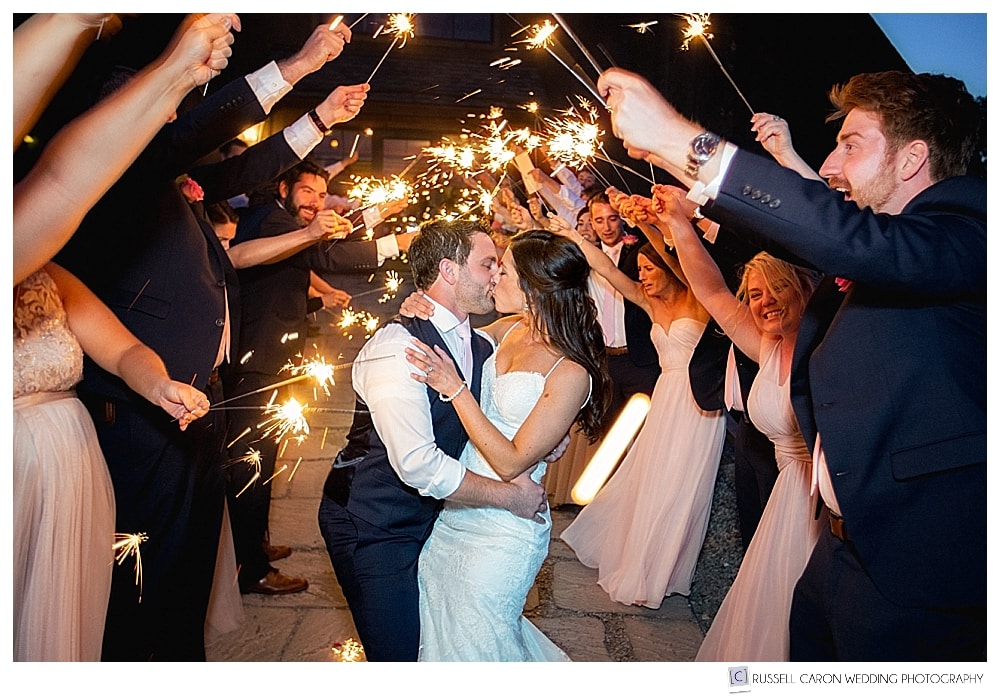 Have a "faux sparkler exit" earlier in the evening. Fewer guests will have left, and more guests will be in a better frame of mind to listen to directions and to take part safely. There may still be some twilight left to add a pop of light in the sky. Just have your DJ or band announce for guests to meet at an agreed upon location for a sparkler "photo op". We've done this many times with great success, as in the photo above at The Mountain Top Inn.
Tip#2: The line up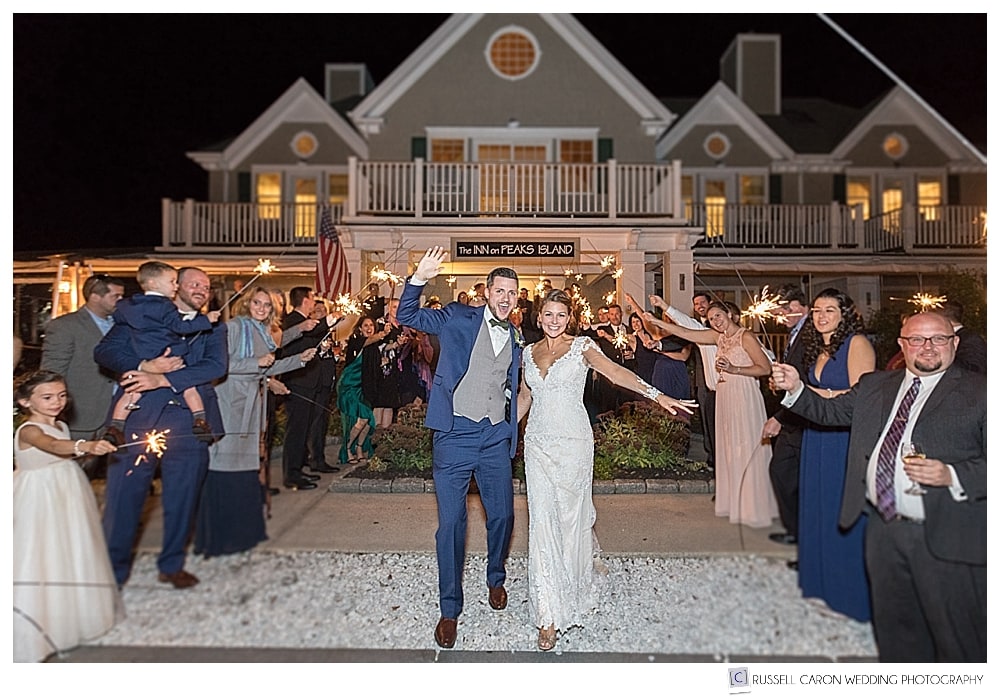 Your photographer can help determine the best place to do your sparkler exit. A walkway or path is best, something with even ground, so you can walk easily. When the time comes, your photographer will get everyone together, line them up, and get things organized. Having people assigned to help hand out sparklers and lighters will be a huge help here. You also don't need to have the same number of sparklers as there are guests – that could be too many and be too complicated to manage. People can share, and help light, etc. Photo of Emily and John at The Inn on Peaks Island, above.
Tip#3: You've GOT to have the LONG sparklers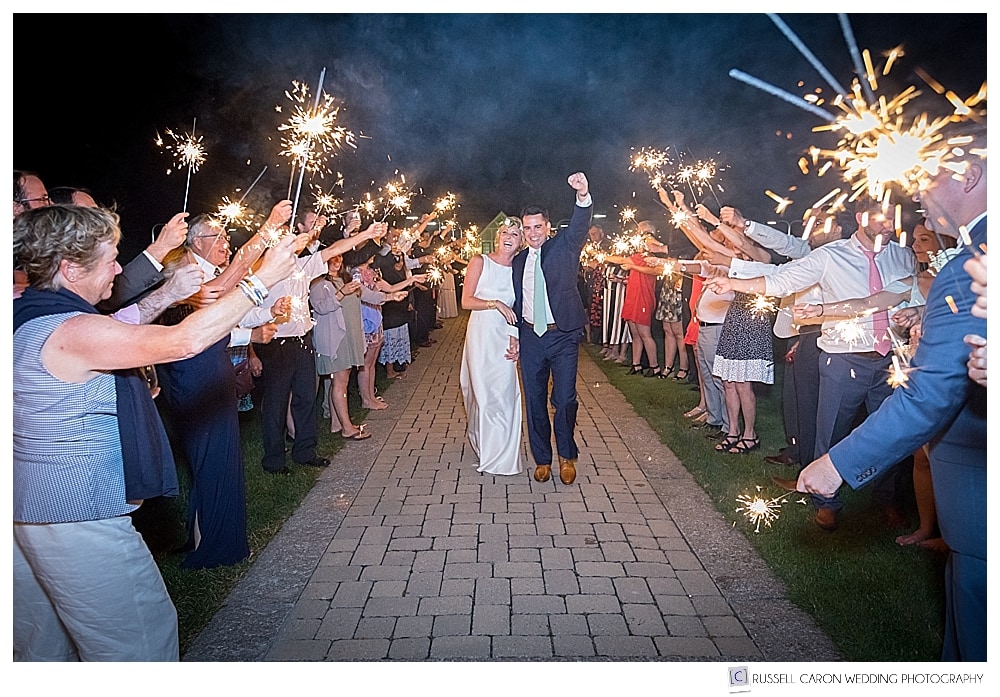 Shorter sparklers won't cut it. They have no reach, are barely seen in the photos, and by the time the last one is lit, the first one's have burned out. You need the 36″ length sparklers. You'll have time to light them, and go through your exit a few times. Like Kristen and Sean did, above, at the Bar Harbor Club.
Tip #4: Have ALLLL the lighters!
The more lighters, the better! (You may never, ever need to buy a candle lighter again!) But that's OK, because your sparker send-off will go flawlessly and you'll have amazing photos! There's no set rule on this, but if a lighter can be shared by no more than 4 or 5 people, it should all work fine. So, if you have five dozen sparkers? Get a few dozen lighters.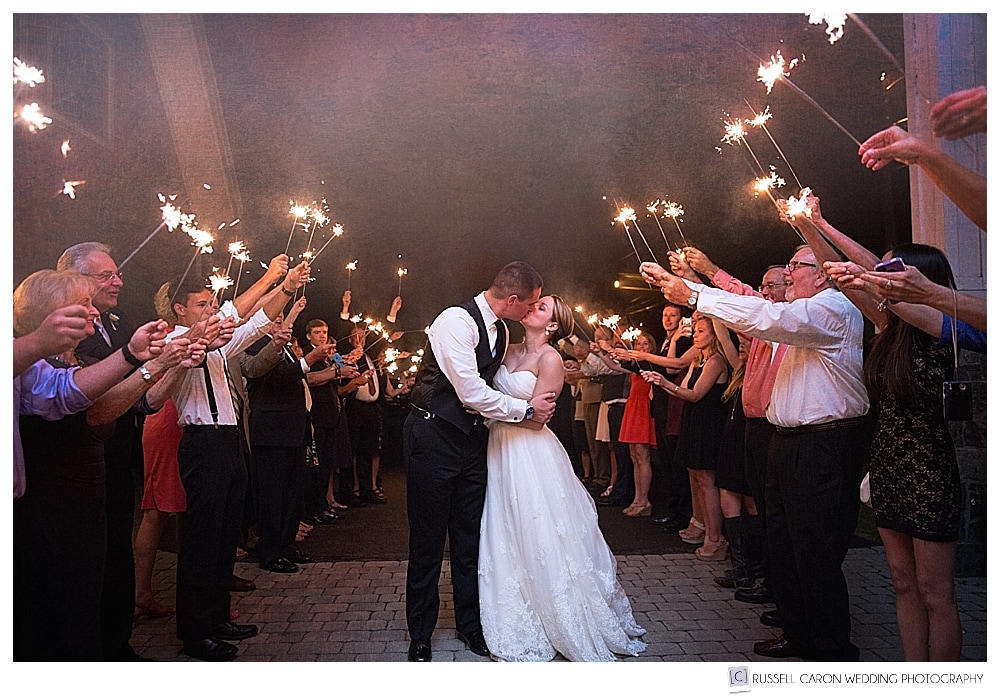 Tip#5: There's no need to run
You don't actually run through the arc of sparklers, just walk at a normal speed, straight toward the photographer. You don't need to look at the photographer, you can look through them or at each other. So kiss, dip, twirl, laugh, have fun, and get your sparkle on!! Mike and Hanna at the Landing at Pine Point, above.
Always exercise caution and care – after all sparklers are fire and can burn you.
If you find this post about sparkler exits helpful, please feel free to share! Thank you
Maine wedding photographers, Russell and Liz Caron, are romantics at heart who love photographing people in love. Are you getting married? No matter where your wedding is located, we'd love to travel there and take breathtaking wedding photos for you. For more information contact us right away!