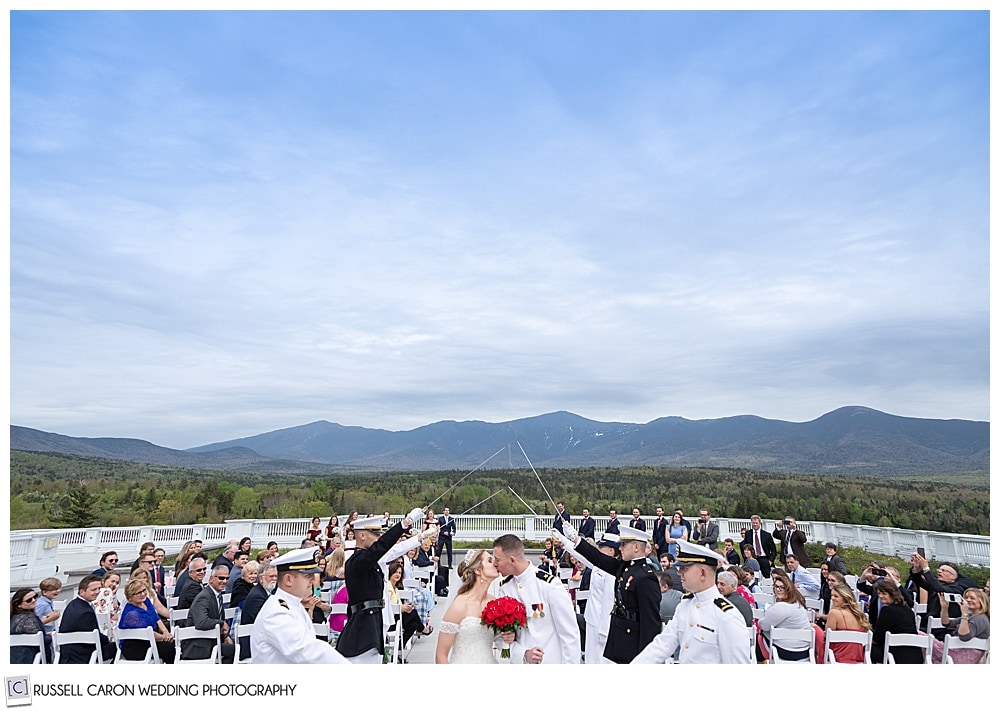 Military Wedding Sword Arch photo! We have a very soft spot in our hearts for anyone in the military, and as well for military weddings. Abigail and Courtland BOTH graduated from the US Naval Academy (thank you both for your service!)
When Abigail and Courtland told us they were hoping there'd be a military wedding sword arch, we were excited! Especially since their wedding venue was the truly spectacular Omni Mount Washington Resort in Bretton Woods, New Hampshire!
In any branch of the military, there's always a chance that you may be called away, which is why Abigail and Courtland weren't sure about their military wedding sword arch. According to what we've seen, at least 6 to 8 members of the service are required.
It all worked out, (really well!) and were we ever happy it did! Here are Abigail and Courtland pausing to kiss as they pass under the swords. The looming presence of Mount Washington really adds to the romance of the moment.
See the rest of Abigail and Courtland's Bretton Woods Wedding!
Venue: Omni Mt. Washington Resort
Photographers: Russell Caron Wedding Photography, photographs by Russell Caron and Liz Caron
Officiants: Colin Gallagher and Cody Rothwell
Florist: The Fuchsia Peony
Band: Jim Ciampi Band
Bride's Makeup: The Spa at Omni Mount Washington Resort
Bride's Hair: Shelley Worthing
Bridal Dress Designer: Ines Di Santo
Bridal Dress Boutique: L'Elite Bridal
Bride's Shoes: Paradox London
Cake: Omni Mt. Washington Resort
Paper Suite: Carlson Craft
Please comment on the blog post, if you enjoyed our military sword arch wedding photo! And please share!! Thank you 🙂 Come back every day, until we reach #1 on December 31!

Bretton Woods wedding photographers, Russell and Liz Caron, are romantics at heart who love photographing people in love. Are you getting married? No matter where your wedding is located, we'd love to travel there and take breathtaking wedding photos. For more information contact us right away!