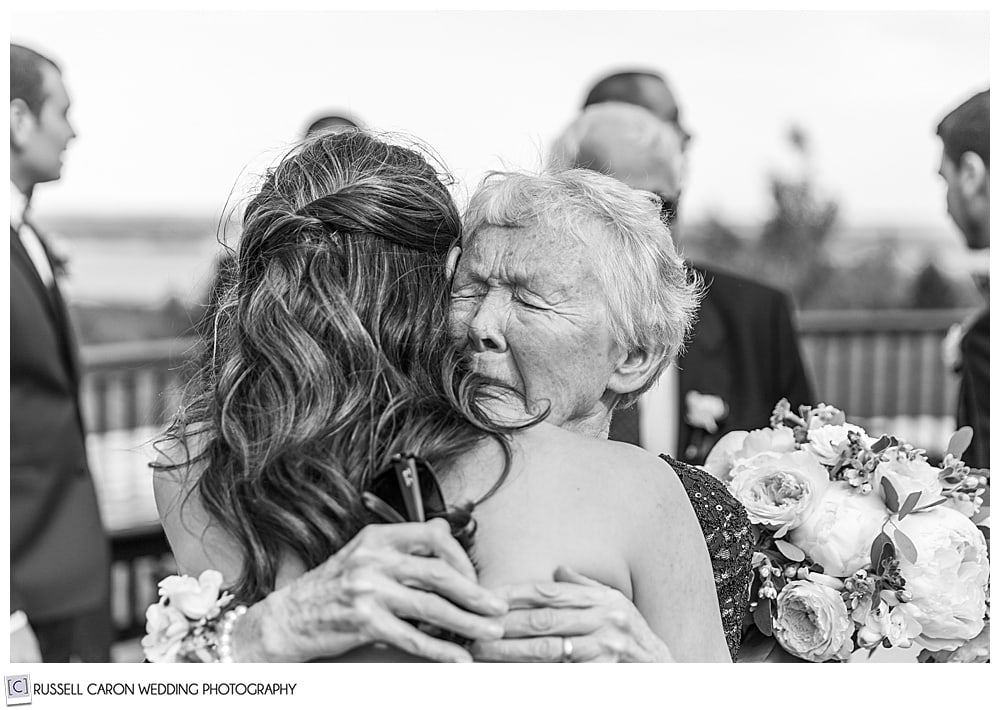 This sweet emotional grandmother's embrace is Russ' #9 photo of 2019!
Sometimes a photo is about the scenery, the environment, the portrait. And sometimes it's all about the emotion. Like here. And especially when it involves a sweet grandmother as it does here. You know that the family is going to cherish a photo like this for generations and beyond. So when we are "in the right place at the right time", which we strive to be at all times when on duty photographing weddings, we are honored and excited to know we've created a legacy for the couple as well as for the families.
In this photo, back-to is our bride, Dana, and the sweet little lady is Dana's grandmother. When there is this much pride and love gushing through, it makes the adage "a picture is worth a thousand words really ring through.
The sheer emotion here makes this my #9 top photo out of thousands and thousands taken at wedding all through 2019.
Don't miss Dana + James' full blog post here: Classic Point Lookout WeddingVenue: Point Lookout
Photographers: Russell Caron Wedding Photography, photographs by Russell Caron and Liz Caron
Videographer: Josh Swan, Media Northeast
Fireworks: Central Maine Pyrotechnics
Officiant: John Portela, All in One Weddings
Floral Designer: Pretty Flowers
Band: Redline
Hair and Makeup Artists: Emily Velandry and Kaylee Emma of Bei Capelli
Wedding dress designer: Suzanne Neville
Wedding dress boutique: A Little Something White
Men's Wear: Ridge Squire Tuxedo
Cake: 3 Dogs Cafe
Paper suite: Bespoke Designs
Please comment on the blog post if you enjoyed Russ' #9 emotional grandmother's embrace! And please share!! Thank you 🙂 Come back every day, until we reach #1 on December 31!
Classic Point Lookout wedding photographers, Russell and Liz Caron, are romantics at heart who love photographing people in love. Are you getting married? No matter where your wedding is located, we'd love to travel there and take breathtaking wedding photos. For more information contact us right away!