Cape Neddick Maine wedding photographers
Bailey and Joseph were married at the Cliff House Resort and Spa in Cape Neddick, Maine on Saturday, July 19, 2014.  What's not to love about the Cliff House Resort and Spa? Perched atop the beautiful and dramatic cliffs that plunge down to the sea, with sweeping ocean vistas, an indulgent spa to pamper and relax, and a renown restaurant that artfully prepares local Maine ingredients, you truly feel secluded from the rest of the world. Take all of that and add to it an equally beautiful and gracious couple, and you have a wedding story that dreams are made of!  As Cape Neddick Maine wedding photographers, we were honored to be chosen to capture the emotion and joyous moments of this very special day.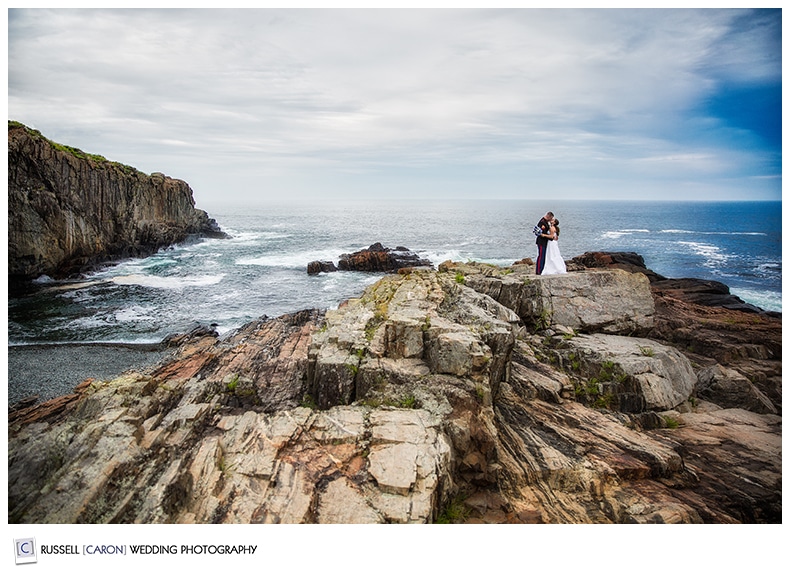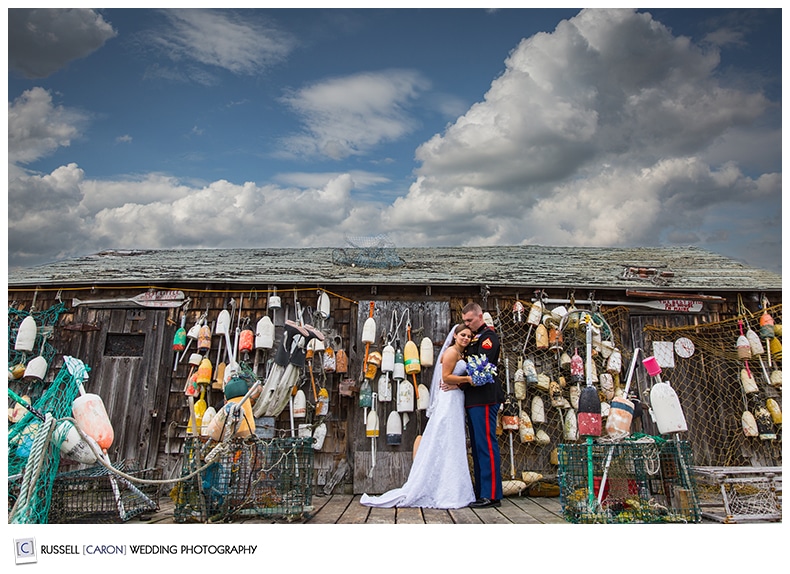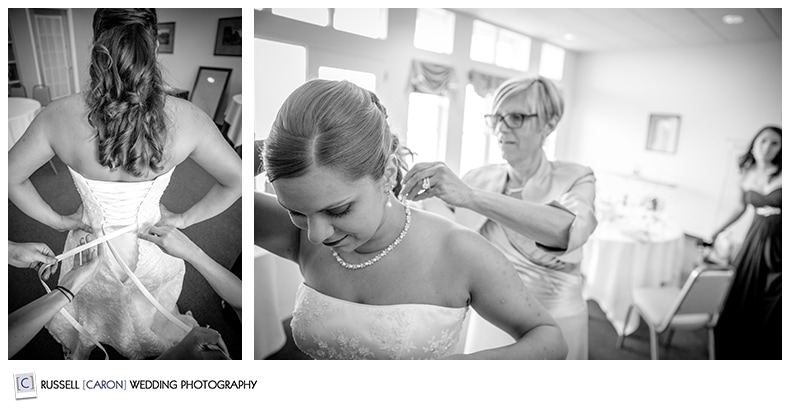 Downeast Flowers did an outstanding job with the flowers! Bailey's bouquet was stunning in blue and white with hydrangeas, calla lilies and delphinium.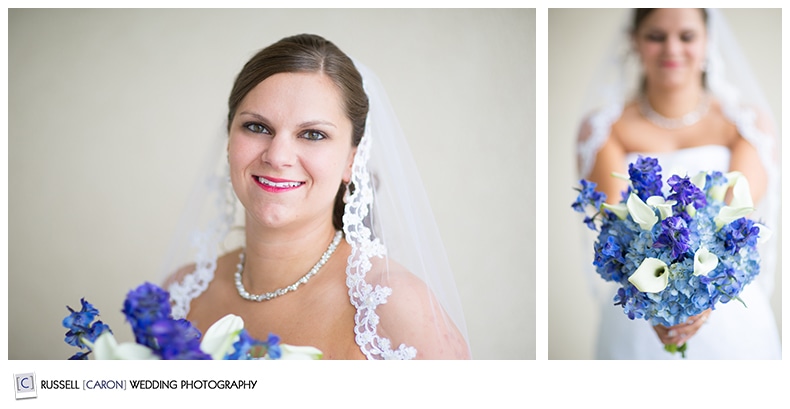 Bailey's strapless, lace gown was beautiful with matching veil. (We love veils because they add an element of elegance, texture and adornment). Bailey purchased her gorgeous gown at Bride's Choice in Waltham, MA, the same place that her mom had gotten her own wedding dress!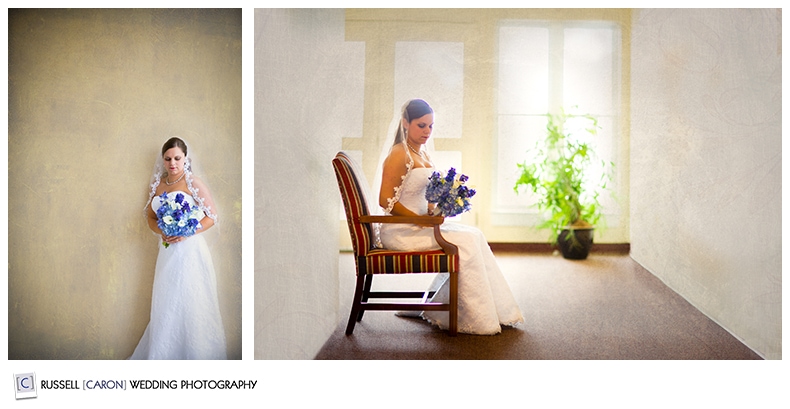 Joseph, a member of the Unites States Marines, wore his dress blues for the ceremony. Could there possibly be a "sharper", more distinguished, dress uniform?!?!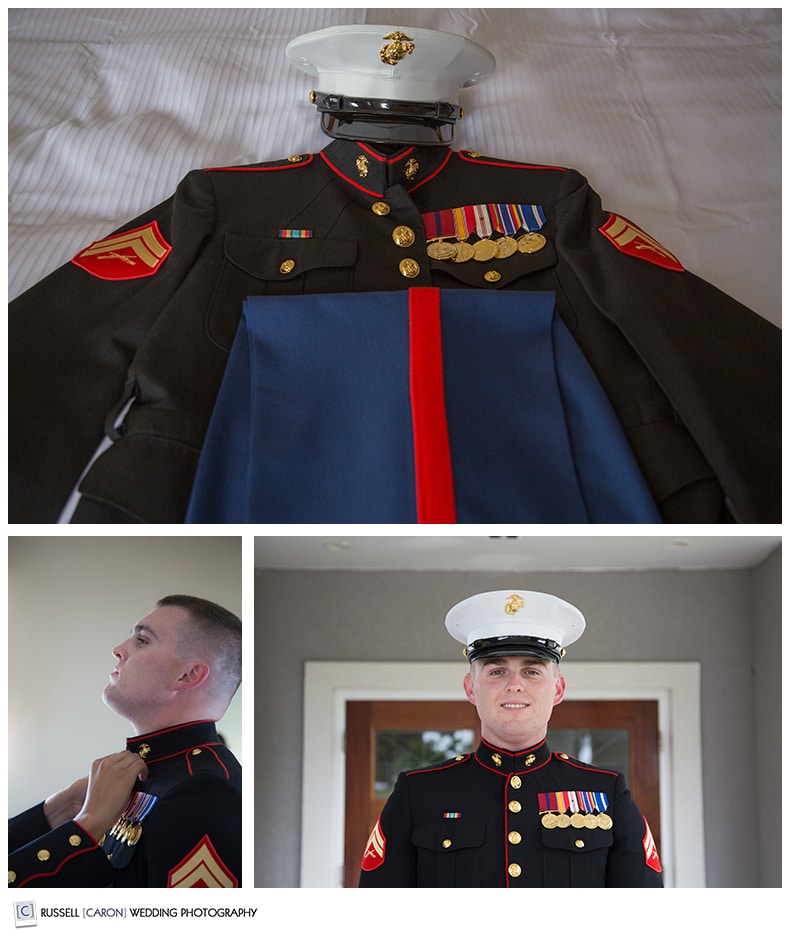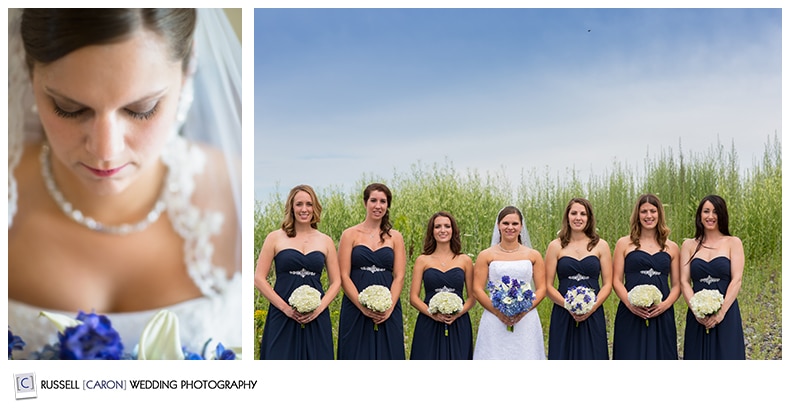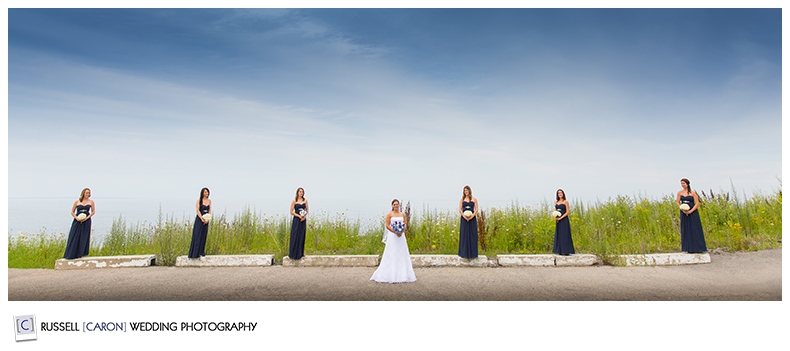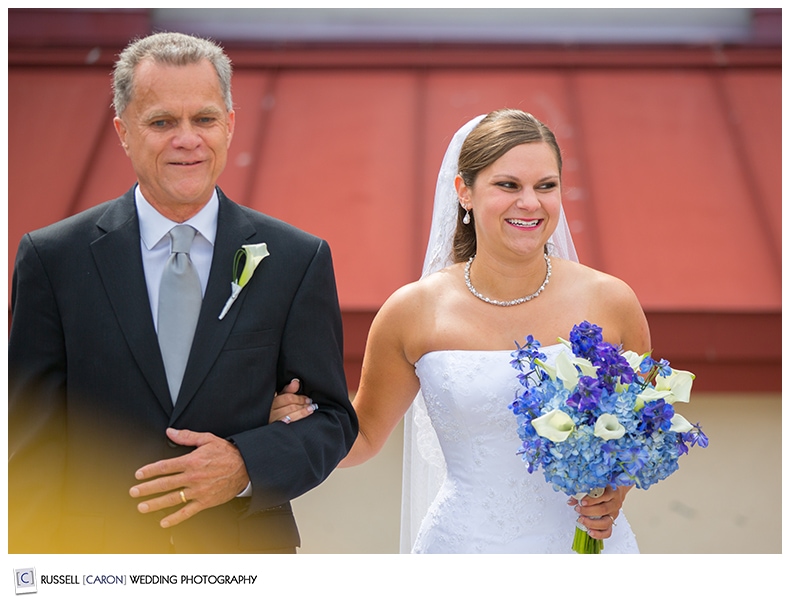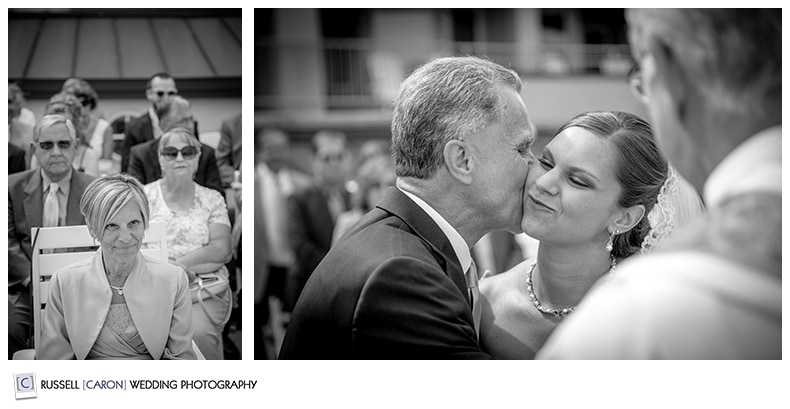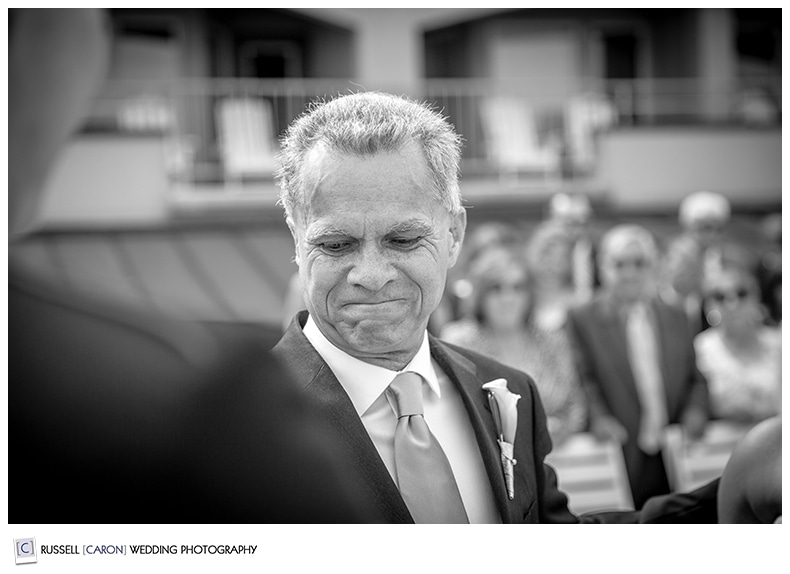 Father Larry Camerlin from Massachusetts officiated the very rare outdoor Catholic ceremony. From the very start, Father Camerlin made every laugh, made them feel at ease, and even welcomed Cliff House hotel guests watching from their balconies (the image immediately above right tells this story!). So refreshing, so cool. His approach, style, and demeanor allowed all the true emotions of the day to run freely; from the most special tears of joy to laughter, all throughout the 45-minute ceremony that included a very unique sand ceremony which included the participation of all the guests. Bailey had mentioned to us that her offciating priest was "cool"; but we didn't know he would be this cool!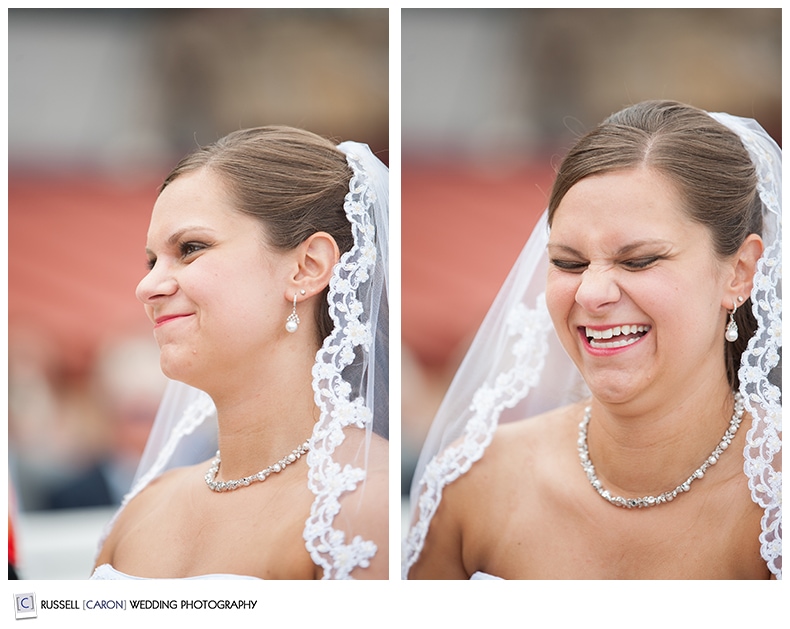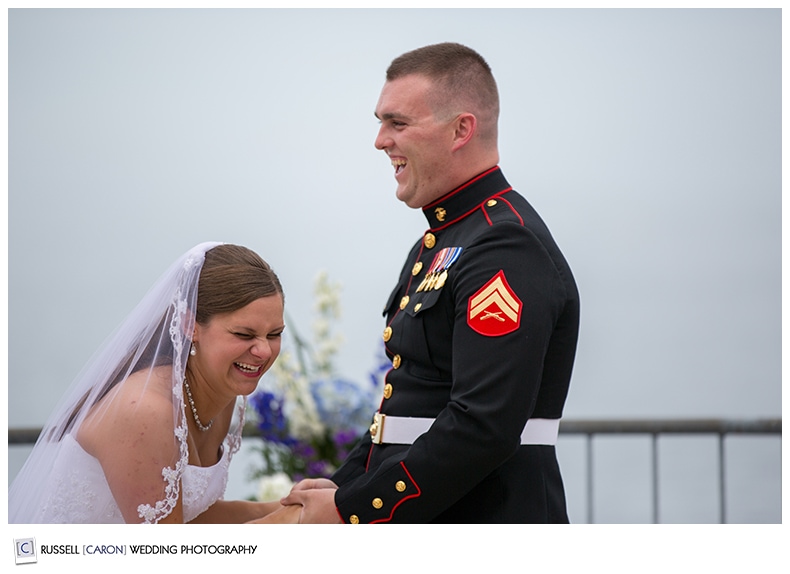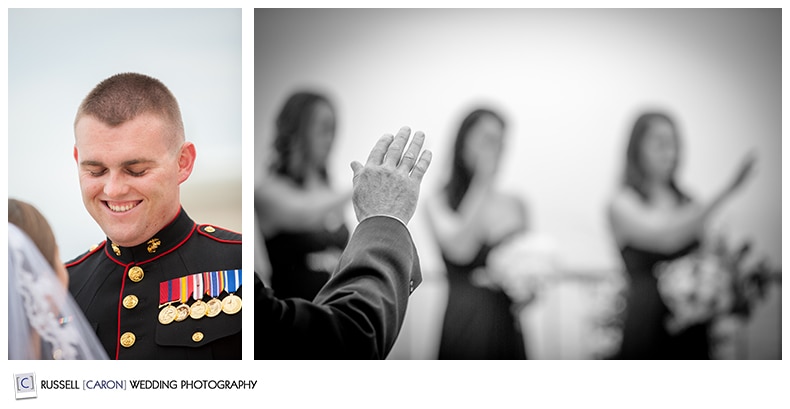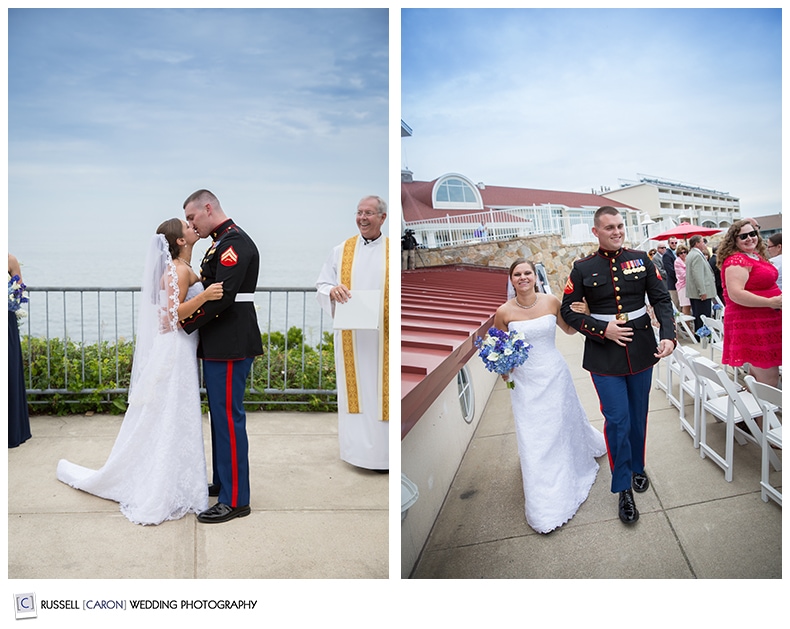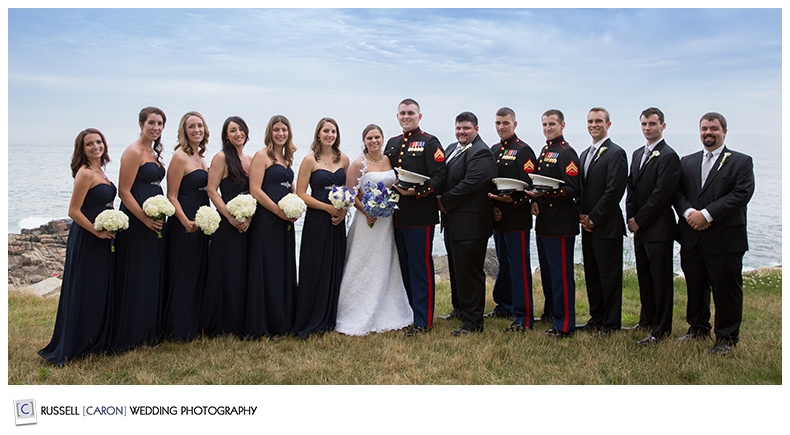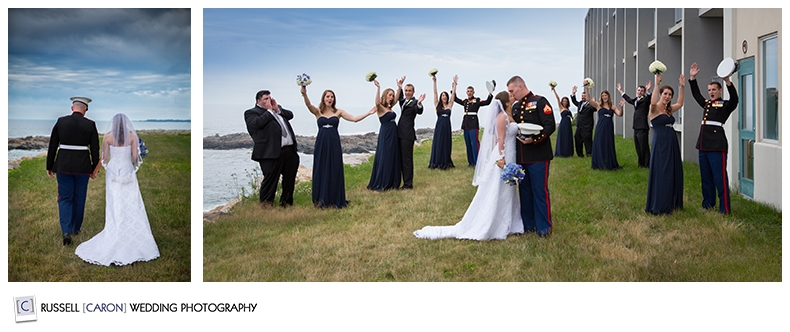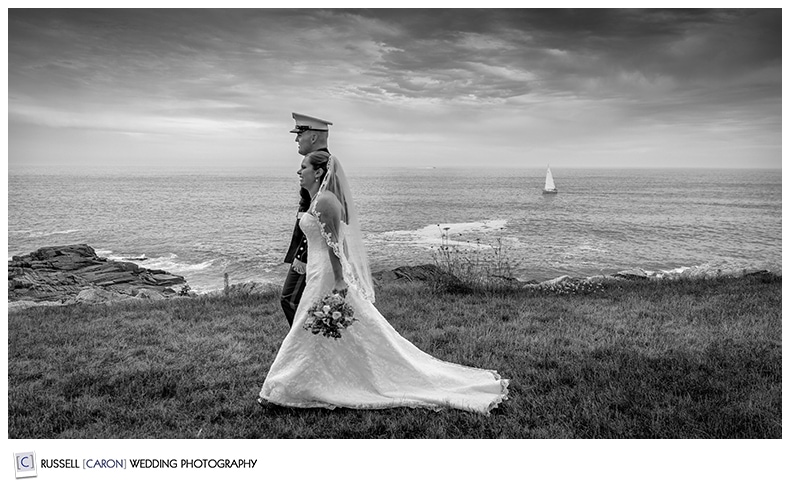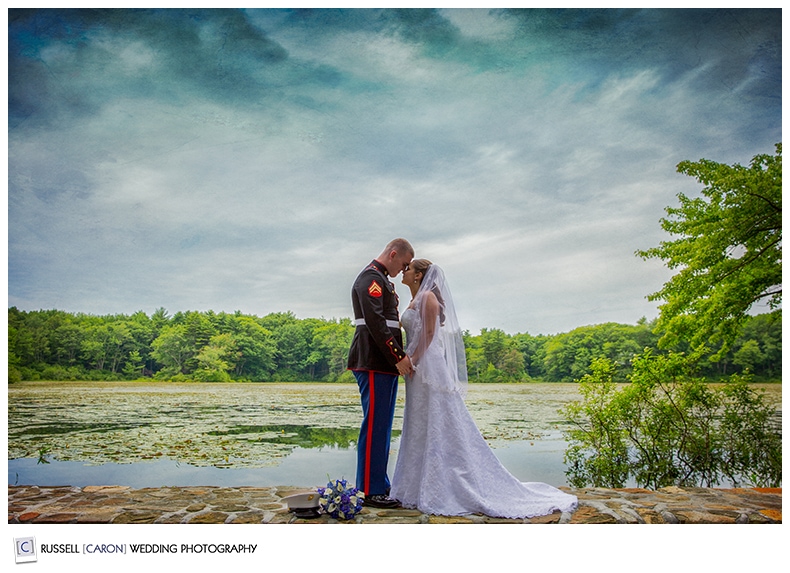 A quick offsite excursion for some artistic and creative photos in the quaint Cape Neddick section of the town of York. We love to whisk our couples away for just a few moments to capture some fun and interesting images!  We love it when the couples mention to use after seeing what we've done with these images ends up being such a fun little break between the day's key events and how much they love these lifetime memories we created together.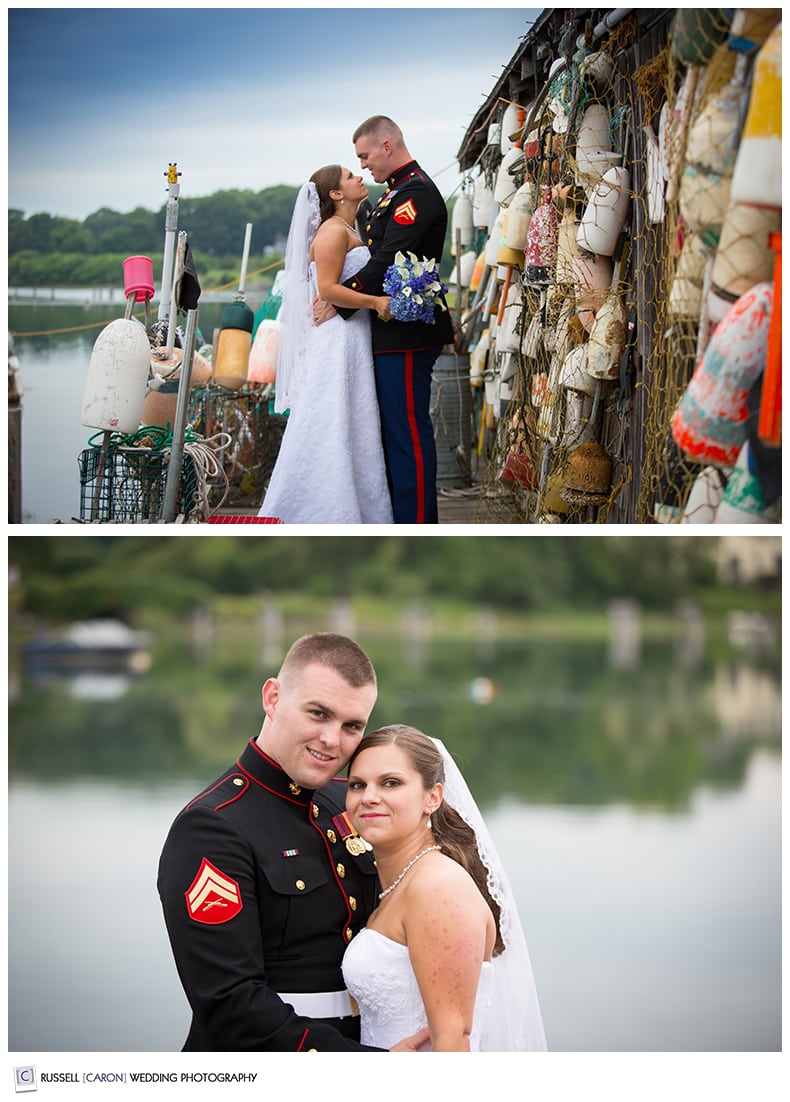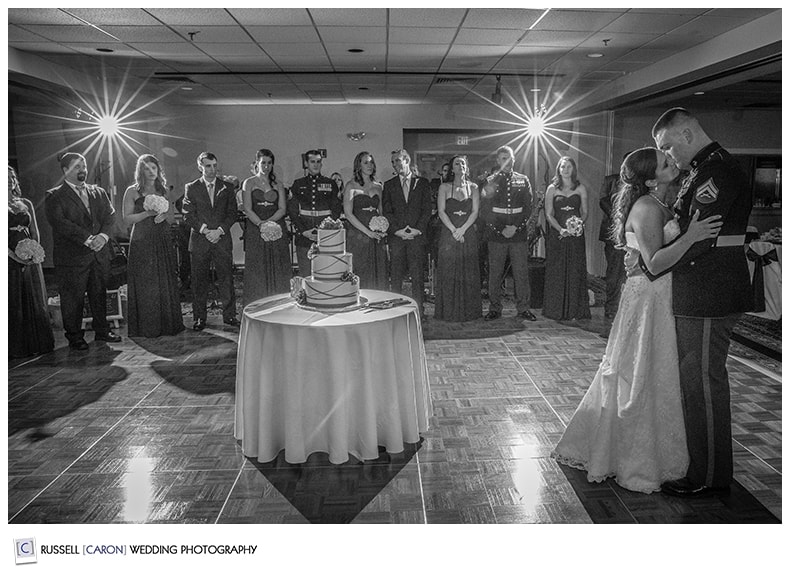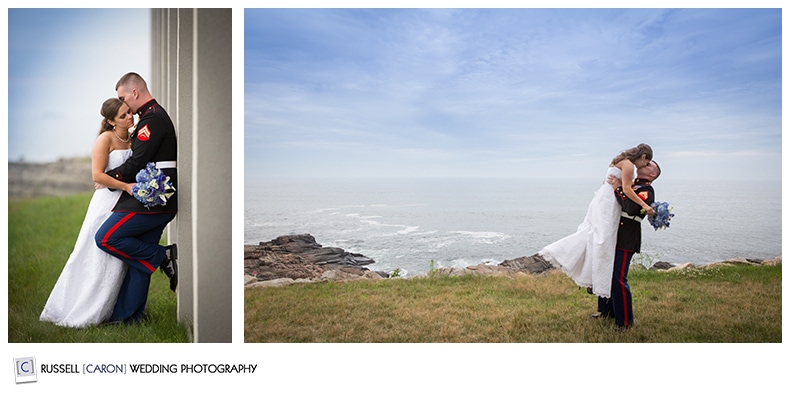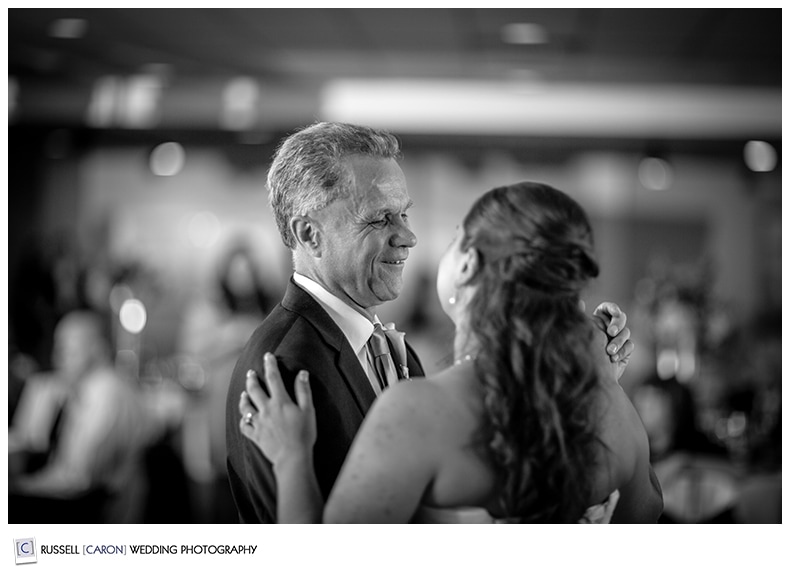 There was a cigar bar on the deck! Men and women alike were enjoying the pleasure of a good smoke.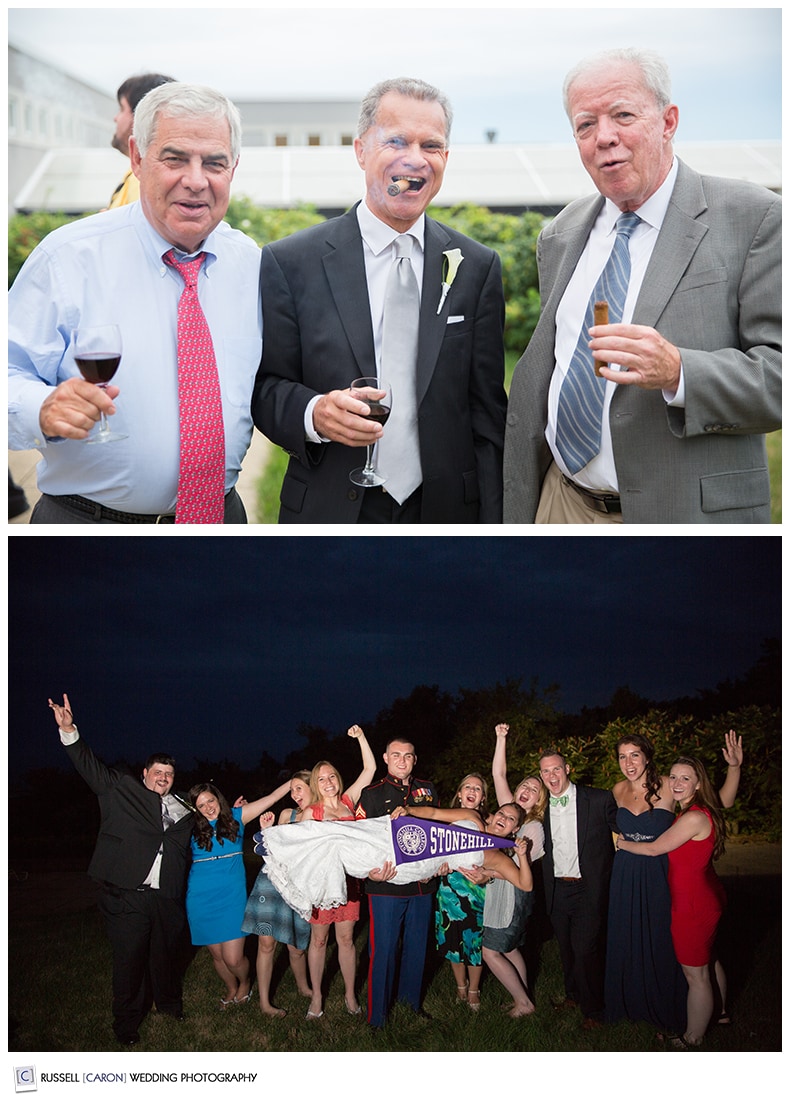 Did we mention that the Bob Charest Band rocked the reception?  We love these guys for so many reasons, so much talent, professionalism and fun, fun, fun!!  When the Bob Charest Band is in the house, we know we're in for a good time!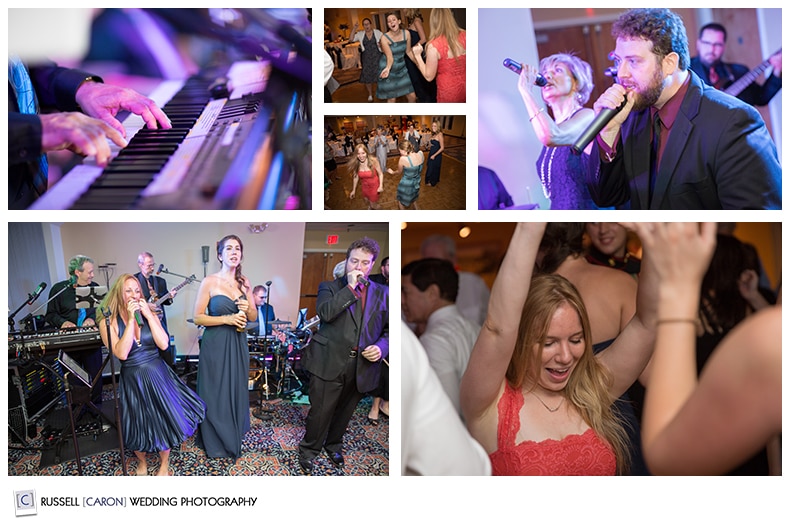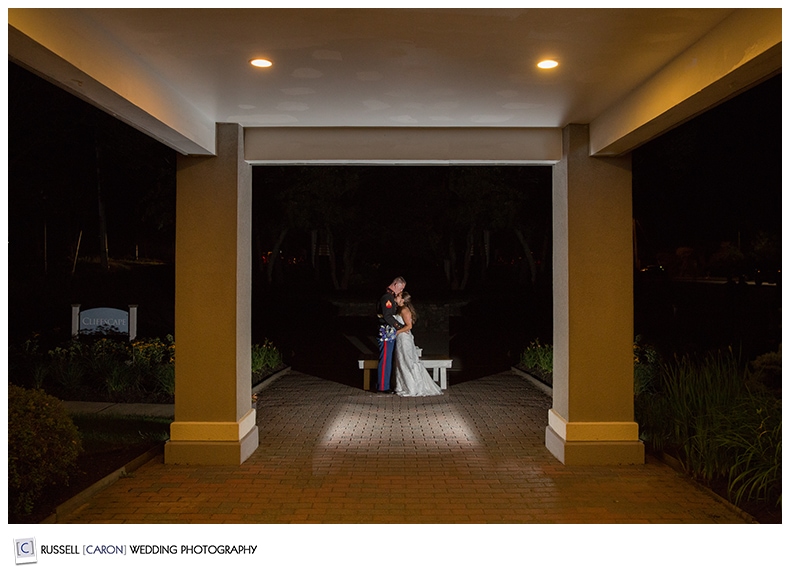 After the last dance, Bailey and Joseph have a quiet moment together, below.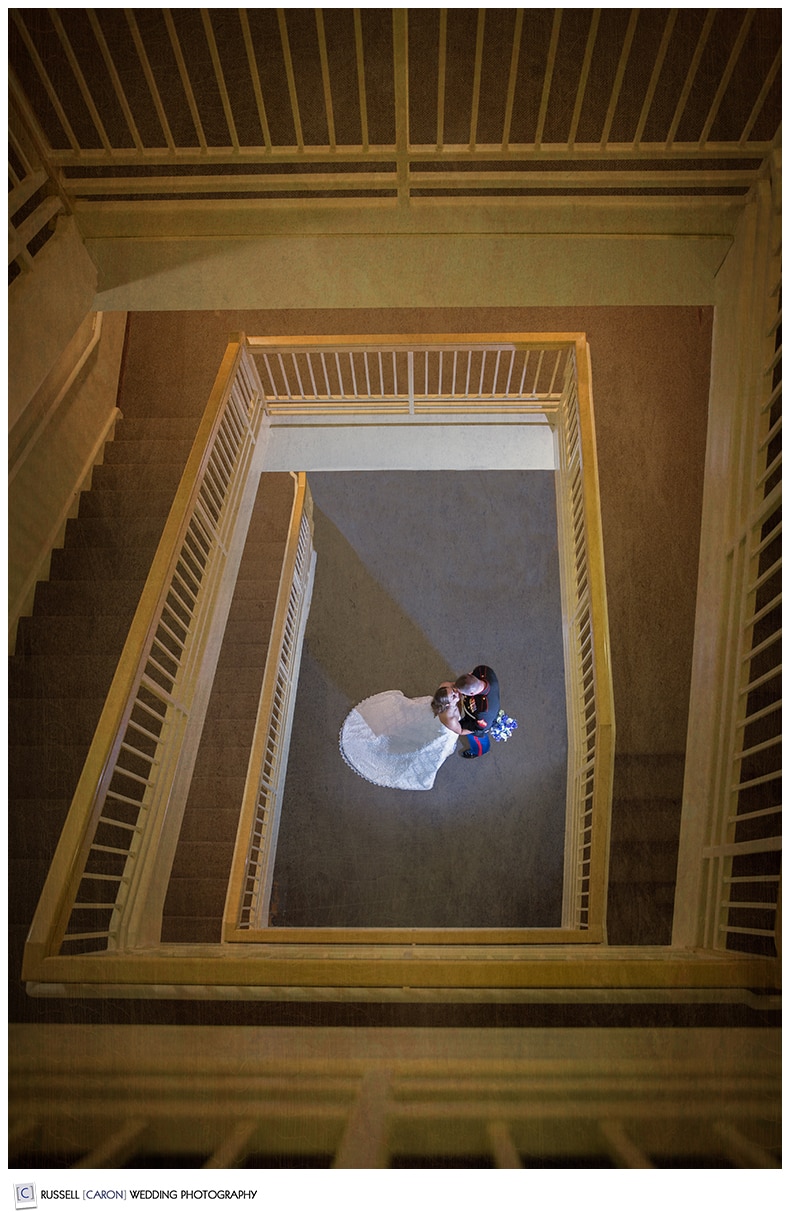 We love comments and shares! If you enjoyed Bailey and Joe's Cliff House wedding, brought to you by Cape Neddick Maine wedding photographers Russell and Liz Caron, please comment and/or share! Thank you!!
Cape Neddick Maine wedding photographers, Russell Caron Wedding Photography, puts the fun into wedding photography for Maine wedding couples.  Feel the love as this dynamic pair effortlessly capture each of your cherished moments, producing natural looking poses and unparalleled art for your special day.  For more information, please contact us right away!